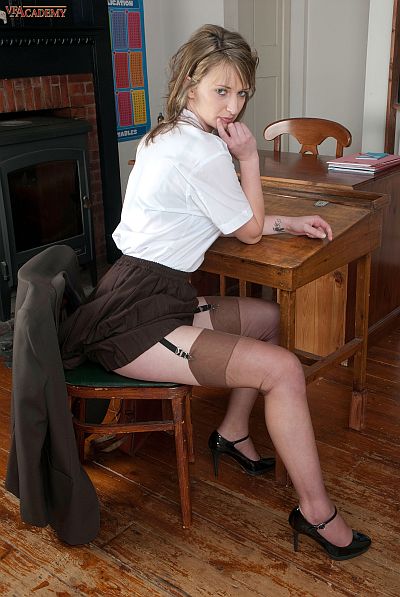 Kim has discovered she loves being a bad girl and lifting her skirt to show off her panties, nylon stockings and suspenders. Last week she was caught stripping off on the common and showing the guys what she's got, so she was made to stay behind in detention.
'All the boys love my boobs and I love getting them out so they can have a feel,' Kim told us when we found her in the detention room at the academy. 'I wasn't exactly undressed, but Ms Rouge caught us while I was wanking their cocks off, so here I am. '
Showing us just what a bad girl she is, Kim sat with her pleated skirt around her hips and opened her legs so her black suspender belt, brown nylon stockings and the crotch of her black nylon panties were fully on display.
Unbuttoning her blouse she pushed the cups of her bra together and massaged her boobs through the lacy fabric. Then removing the bra she played with her titties, circling her fingers over the soft, pink-brown nipples as her other hand felt up her pussy through her nylon panties.
'I love being a bad girl,' Kim said, touching herself through the front of her pantie crotch; her fingers pressing into the folds of her pussy through the thin material of her sheer nylon kickers.
Being a rebellious girl and not caring who walked in right now, Kim decided to strip off her uniform. Taking off her skirt, she then carefully rolled down her knickers and stood there masturbating with fingers massaging the lips of her freshly shaved pussy.
Kim then climbed onto the top of the desk, leaning forwards to push her naked ass and pussy upwards as she wanked herself off to orgasm.
Get our superb Vintage Flash newsletter each week - all the latest model info, updates, set preview pics and more!