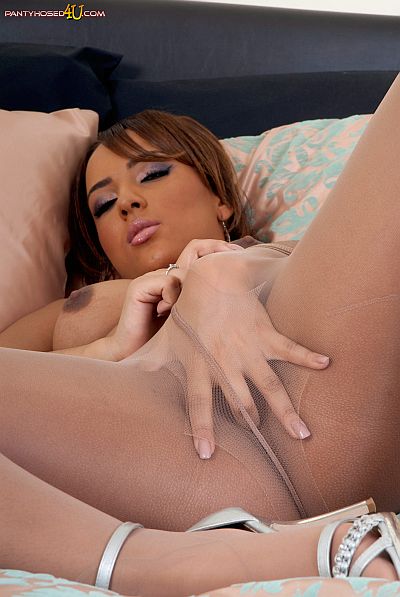 Kayla was getting ready to go out in a very revealing, figure hugging pink dress, the outline of which clung to the curvature of her fabulous figure like a second skin.
The dress was so short I could almost see her pussy behind the the crotch of her sexy nylon hose, as she stood showing off her shapely legs in their glossy designer pantyhose and sexy silver strap-on heels.
As Kayla leaned over slightly to pull up the back of her dress, I marveled at the shape of her soft round buttocks which looked so smooth and perfect in the silky gloss hose that covered her ass.
When she turned around again I could see the patch of her trimmed pubic bush through the front of her sheer pantyhose; such a sexy view that made my cock stiffen in my pants.
Kayla then stretched the waistband of her hose upwards, causing the heavy seam to pull tight between the lips of her sweet pussy crack and make a camel toe.
'I love the feel of my pantyhose tight against my pussy,' Kayla said, rubbing her hands over her pussy and pulling the crotch of her hose even tighter,  pressing the seam hard against her hot slit with her fingers to make her clitty even harder.
Digging her fingernails into the fragile fabric of her pantyhose crotch, Kayla ripped at the nylon gusset to get at her juicy, hot pussy which was wet with excitement.
Massaging the hot pink button of her erect clitoris through the shards of her laddered pantyhose, Kayla masturbated with fingers inserted up her tight, sticky fuck hole and made herself cum hard.
Get our superb Vintage Flash newsletter each week - all the latest model info, updates, set preview pics and more!