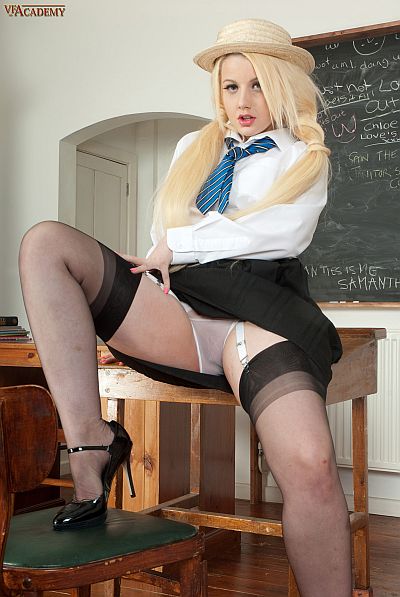 Ms Rouge caught nylon stocking slut Kerry in the act of sitting on Kiana's face, resulting in Kerry doing some time in detention.
Kerry believes Ms Rouge is jealous because she also fancies Kiana, and is being a total bitch for making her stay behind after class is over.
Feeling really horny after having felt Kiana's tongue licking her slit, she decides she needs to play with her pussy to relieve her frustration.
'I think you should get your cock out and have a wank, and maybe I'll show you what I did to Kiana,' Kerry says, lifting the hem of her skirt and showing off the array of her suspender straps attached to the tops of her stockings.
Kerry strips down to her underwear and bending over, she gives a rear view of her sumptuous ass in full cut nylon panties. Then she removes her bullet bra to reveal the gentle mounds of her teenage boobs with their soft pink aureoles.
Taking off her knickers, Kelly climbs onto the teacher's desk to masturbate. Spreading her stockinged legs, her hand reaches down and massages her juicy pink fuck hole framed by the webbing of her garterbelt and the tops of her nylons.
Get our superb Vintage Flash newsletter each week - all the latest model info, updates, set preview pics and more!