Poppy had been out shopping dressed in one of her favourite summer outfits – an off the shoulder top, pink pencil skirt, stockings and heels. She stood and gave her ass a wiggle, letting us see those sexy seamed running up the back of her calves and her feet in black and white, patent leather, stiletto heels.
'I'm wearing some 1950s, fully-fashioned Cuban heel stockings,' Poppy said, leaning over to run her hands up and down her legs in their seamed nylons. 'And I love these gorgeous, patent leather shoes, look how gorgeous that heel is, so high,' she said, slipping one foot out of her shoe and running her fingers along the spike of her shiny leather stiletto.
Poppy turned and lifted her pencil skirt, revealing the neatly trimmed strip of her pubes and shaved pussy, showing through pink sheer nylon of her panties; framed by the straps of her her black lacy garter-belt affixed by metal-clasps to the tops of to her stockings.
'I love how they feel,' Poppy said, sliding her hand over the front and down to the crotch of her sheer nylon panties, 'and they look great from behind.' She turned and bent over, the black suspenders stretching around her buttocks tugging on the welts of her seamed nylon stockings as she caressed her nylon clad ass.
'Now, I don't mind you watching while I get undressed and if you get turned on that's fine by me,' Poppy said, and unzipping her skirt it slid down her stockinged legs to fall around her heels. She stepped out of the skirt, and sat on the with her legs open, giving a view of her pussy through the sheer nylon crotch of her sexy, pink panties. 'So, if I'm going to play with myself, it's only fair you should get out your cock and start playing with it,' she suggested, her hand lightly stroking her nyloned legs and the flesh of her thighs above her stocking tops.
'I'm getting turned on right now, I'm so wet,' she murmured, and leaning back she lifted her stockinged legs and held them close-together; her fingers exploring and massaging the mound of her pussy through her tight, nylon panties. "I hope you are stroking that big cock of yours, as it turns me on knowing you are touching yourself over me,' she said, sliding her hand down the inside of her panties as she began to masturbate openly.
What our members are saying about Poppy Spink in this video:
Thom***** says: Poppy puts a smile on ones face and a bulge in ones trousers. A beauty to behold.

Road***** says: Poppy looks stunning in her pink sheer panties with black garter belt, stockings and bra, but her masturbation scenes are one of the best on VF. Hot and seductive this sexy redhead is.

3rd****** says: Very,very sexy!!!
Get our superb Vintage Flash newsletter each week - all the latest model info, updates, set preview pics and more!
NEW SERVICE FOR ALL SMART PHONE USING NYLONS LOVERS!
Text Nat here to get all her pics sent to your phone!
JUST TEXT 'WHITESEAMS' TO 69666
Phone fun day or night!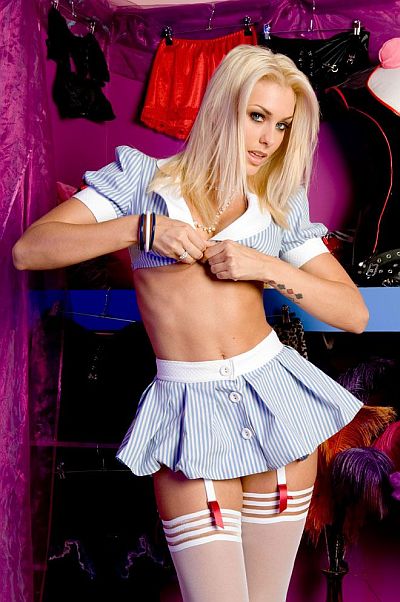 Terms & Conditions (Max 3x £1.50 per msg sent) help: 03333356970 PNP MEDIA - 2 STOP txt STOP
.......................................................................................................