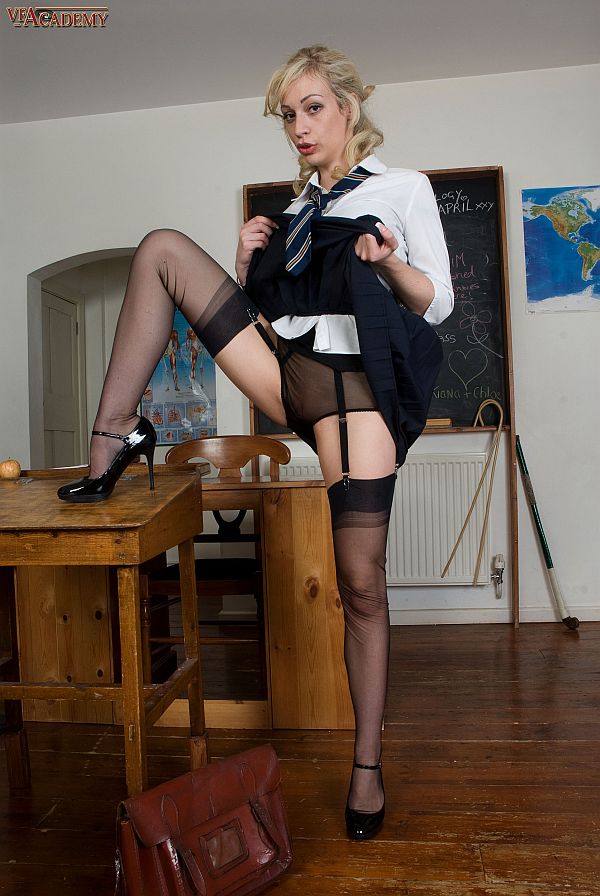 Chessie is a real bad girl who likes to boss men around and when our janitor catches up with her in the detention room he gets more than he bargained for…
'You know what I got caught doing this time?' Chessie says, as she sits on the chair with her legs parted to give a view of her panties, suspenders and stocking tops. 'I got caught by the bike shed with the bad boys and their big bad cocks.'
Deciding she can have some fun teasing and tormenting the janitor she tells him that he'll have to get his cock out if he wants to get a look up her skirt!
'I'm gonna make you watch me play with myself, and you are going to cum for me, but you don't get to touch me,' says our bossy girl. Then undoing her tie she promises to put it around the janitor's neck if he tries to touch her and treat him like her bitch by leading him around the academy grounds for all to see.
'You'd like to lay your hands on this tight little arse of mine, wouldn't you?' Chessie says, as she lifts her skirt and teases him by bending over to show off her ass sheathed in black, sheer nylon panties.
Chessie's black nylons wrinkle around the back of her knees as she gives her arse a wiggle. Then turning and leaning back against the edge of the desk, she lifts her skirt and rubs the crotch of her panties, suggesting that they both have a wank together.
'To be honest I like being a bad girl in front of you, because I know you like wanking over me while watching my every move,' she says, climbing on top of the teacher's desk and giving him a look right up her skirt at her pussy behind the sheer nylon crotch of her panties.
Stripping out of her uniform, Chessie removes her black bra to reveal her firm titties, and then leaning over the desk she pulls her knickers down her seamed stockinged legs.
Chessie spreads her legs wide open and vigorously rubs her pink slit, her suspenders framing her hot cunt as they stretch out to the tops of her stockings. Then kneeling on the desk so her ass and pussy are in full view, she inserts several fingers in her pussy and frigs herself off to climax.
Get our superb Vintage Flash newsletter each week - all the latest model info, updates, set preview pics and more!