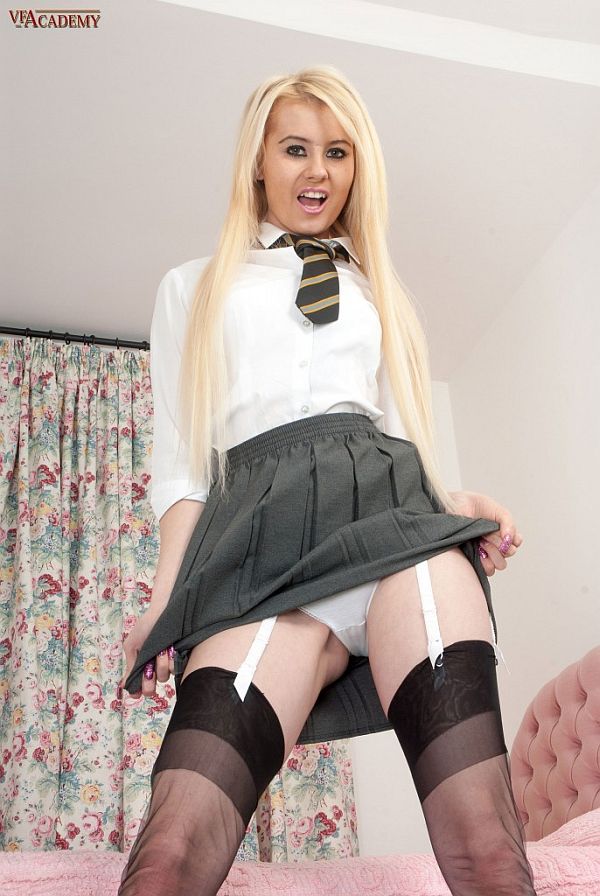 'It's so great to get back from class, finally I can relax and enjoy the rest of my evening!' Brook says, as she lays on her bed with her legs open, giving a view up her skirt at her white cotton panties and the tops of her black fully-fashioned nylon stockings and suspenders.
Brook suddenly notices that you are looking at her panties, but she does nothing to hide the view of her underwear and remains with her legs open. Then she smiles and flirtatiously grooms her long blonde hair, saying, 'A sexy academy girl like me… Who wouldn't want to eye me up! I can't really blame you for always wanting to stare at my sexy hot panties.'
Brook slips her fingers down the side of her panties and begins to play with her pussy, her hand moving under the soft cotton material as she confesses she is actually getting turned on by being watched while she masturbates in her knickers. Then she kneels on the bed with her skirt lifted up and tilts up her pantied ass, inviting you to come right up close for a better look at the cotton gusset stretched tight over her pussy.
Getting up to stand in front of you, she further teases by lifting up her short skirt to give more views of her white panties framed by her suspenders and the tops of her wrinkled nylon stockings. Then stripping out of her uniform she kneels on the bed once more and slowly tugs down her knickers, offering a perfect view of her shaved pussy and the puckered ring of her ass.
Sitting on the edge of he bed with her stockinged legs wide apart, she then inserts several digits into her pussy and finger fucks her hot teen cunt. Her fingers slip easily into the lubricated hole of her tight twat and make sticky wet sounds as she masturbates to an intense climax.
Get our superb Vintage Flash newsletter each week - all the latest model info, updates, set preview pics and more!