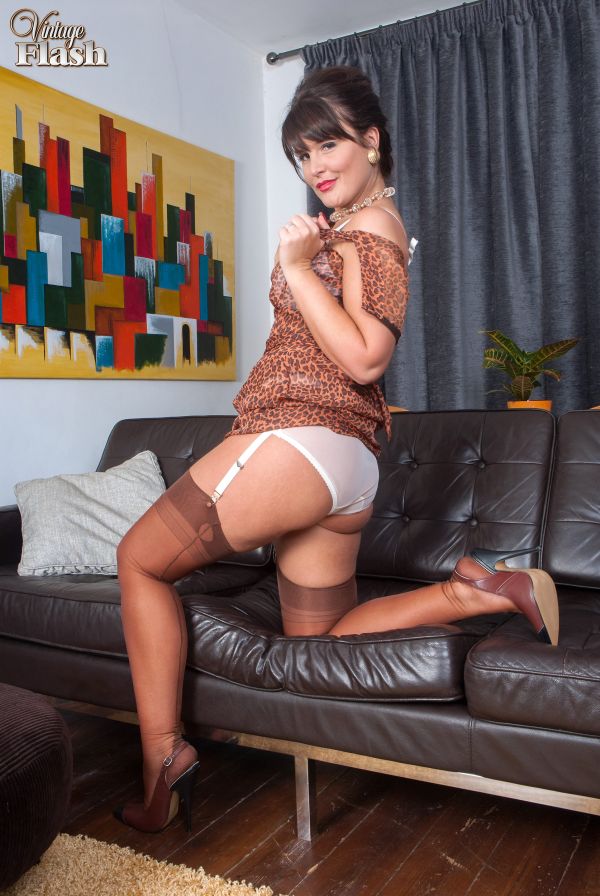 'Hi, I'm glad you could join me because today I'm going to be your nylon seductress,' Elle said, sitting on the sofa wearing an leopard print see-through dress, fully-fashioned nylons and leather stiletto heels.
'Is that cock getting hard as you watch me running my hands over my lovely seamed nylons?' She asked, slowly drawing her hands over the contours of her shapely legs clad in shiny copper coloured, nylon stockings.
Elle stood up to flaunt the clear outlines of her white bra and garter-belt that showed through the sheer fabric of her nylon dress, then slipping off her heels she knelt to give a rear view of her panties through the tight material that stretched around her fabulous arse.
She pulled up the back of her dress for a better view of her ass encased in white panties and ran her hands from the soles of her seamed stockinged feet and up to the bare flesh of her shapely thighs above the tops of her nylon stockings.
Elle stripped out of the dress down to her underwear and unhooking the back of her bra, she juggled the mounds of her tits in the loose fitting cups before allowing her heavy breasts to hang free. Sitting with her legs open, she then ran her hands over her thighs and the front of her pantie crotch which fitted tightly around the mound of her pussy.
Elle turned around and tugged her panties over the fleshy cheeks of her ass and pulled them down before removing them completely. She then lay back with her stockinged legs wide open and pussy fully exposed, moving her hand rapidly as she massaged the outer lips of her mature pussy. Elle sighed with pleasure as she masturbated with her hand between her thighs and thrust her hips upwards with an increasing rhythm as she reached an intense climax.
Get our superb Vintage Flash newsletter each week - all the latest model info, updates, set preview pics and more!