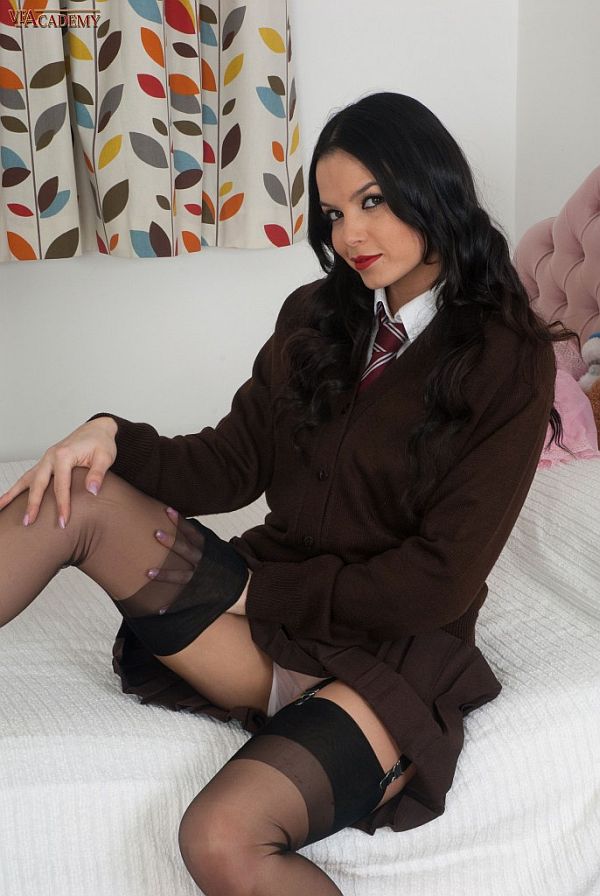 Sasha is in trouble on her first day back at the academy having been caught wearing red lipstick by one of the teachers. As wearing provocative lipstick is against the rules of the academy she was reprimanded and immediately sent to her room to stay on her own for the rest of the day.
'It's an absolute joke,' Sasha protested, as she sat on the edge of her bed applying her lipstick and admiring how she looked in her compact mirror. 'What would they say if they knew I was wearing transparent panties as well. I'm certain they wouldn't approve of those, let alone my red lipstick, very naughty!'
Feeling sexy as she lay on the bed she pushed her hand down the tops of her black nylon stockings, enjoying the sensation of them against her legs as they wrinkled around the back of her knees.
'You can see my little panties here are just as naughty as my red lips', Sasha remarked, and to prove her point she lifted her skirt slightly to show off the side leg of her nylon panties. 'Do you want to see them from behind?'
Kneeling on the bed she lifted the rear of her skirt and sat back on her heels to give a view of her fabulous arse encased in tight sheer nylon, giving it a sexy little wiggle as her hands brushed over the soft fabric.
She slowly unbuttoned her blouse to reveal she was wearing a large black lace bra that held her huge titties firmly in place, then stood to unzip her skirt and let it slide down her seamed stockinged legs to floor.
Reclining on the bed Sasha applied lipstick to her mouth once more and lay with her legs open so her pussy showed through the flimsy material of her sheer nylon knickers. Feeling a tingle in her pussy she rubbed the casing of her lipstick against the crotch of her panties, she teased the lips of her cunt through sheer nylon.
Lifting her bum off the bed Sasha eased the panties down her legs, then kneeling in her black garterbelt, nylon stockings and heels, she tilted her ass upwards and moved her hand between her thighs to get at her pussy.
Sasha then spread the pink lips of her cunt and slotted the fingers deep in her sticky hole and finger fucked herself with rapid movements of her hand slapping against the wet lips of her hot cunt to make herself cum.
Get our superb Vintage Flash newsletter each week - all the latest model info, updates, set preview pics and more!