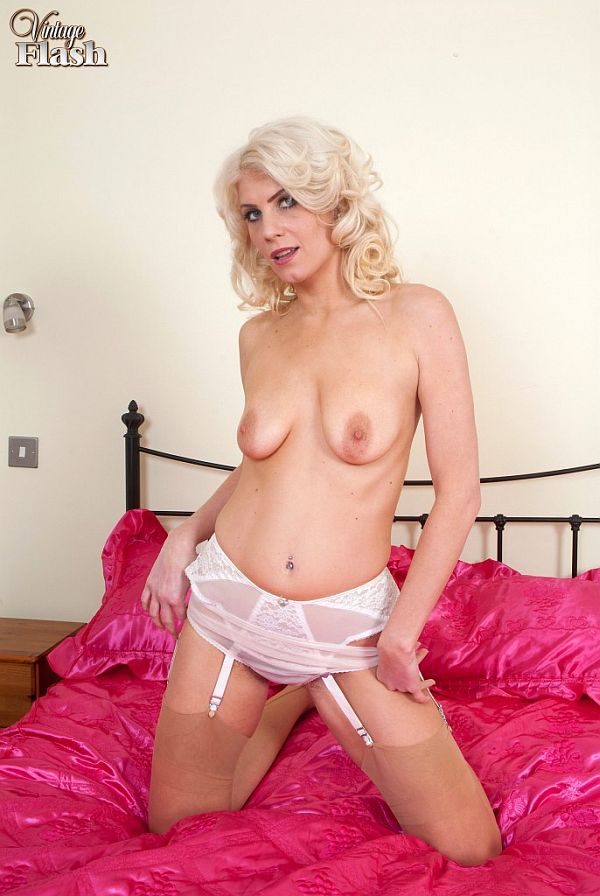 Leggy blonde Bianca is waiting for you in her bedroom dressed in a tight fitting top, pencil skirt, tan nylon stockings and open toed white heels and she has something she wants to show you…
'Do you like my sexy, fully-fashioned nylon stockings?' She asks, slowly pulling the hem of her skirt up her thigh to reveal the taut white suspenders with their metal clasps attached to top of her stockings.
'They do make me feel very sexy and very horny and I'd love you to come and rub them for me', she says, seductively drawing the tips of her fingers up her stockinged legs to the where the nylons wrinkle slightly at the top of her thighs.
Bianca stands and opens her tight shirt to reveal she's wearing a vintage bullet bra, then turns to show off her ass in her pencil skirt, through which the bumps of her suspenders can been seen through the tight material.
Unzipping the back of her skirt she pulls it down to reveal the vintage garter-belt that frames her hairy pussy which is clearly visible thorough the front of her full cut, sheer nylon panties.
Bianca lays on the bed and pushing her hands down the front of her panties she rubs her fingers along the slit of her hairy pussy. Removing her panties she then inserts several fingers between the lips of her hairy twat and teases her clit by moving her hand in circular motions over the springy hairs of her pubic bush.
'I'd love you to spunk all over my hairy pussy,' Bianca says, as she vigorously finger fucks her hirsute minge framed by the white suspenders radiating out top the top of her nylon stockings.
Bianca urges you to wank your cock and shoot your cum over her mature pussy as she masturbates, and with her fingers slotted right up her moist snatch she groans with intense pleasure as she reaches her climax.
Get our superb Vintage Flash newsletter each week - all the latest model info, updates, set preview pics and more!