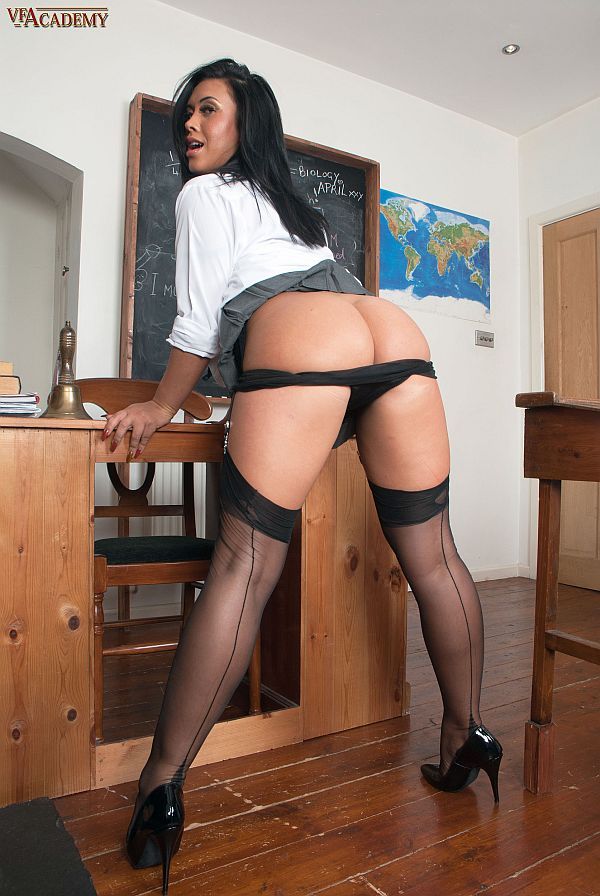 Hannah was feeling a bit frustrated, what with her form teacher confiscating her sexy toy and sending her to cool off in detention all on her own. But not for long…
Our horny janitor realized that Hannah may appreciate some company, so he went along with his video camera (as usual) to see if he could entice this naughty college babe into showing him her stockings and suspenders.
Lucky for him, Hannah was in a rebellious mood and willing to perform a striptease, then get down and dirty, as long as he promised not to tell anyone…
Hannah began by lifting up her pleated skirt just high enough to give a tantalizing look at the array of metal suspender clasps attached to the top of her black nylon stockings.
Climbing on top of the desk she spread her legs wide and rubbed her hand over the crotch of her black panties, stretched tight around the mound of her pussy.
Unbuttoning her crisp, while shirt revealed she was wearing a black bra and pulling down the cups she played her fingers over the perky nipples of her breasts.
Hannah then leaned over the desk and hiking her skirt around her waist she gave her buttocks a slap through the sheer nylon her of her tight black panties. Then hooking her thumbs into the elastic waist of knickers, she pulled them down over the cheeks of her sumptuous arse and left them stretched tight around her thighs.
Finding another sex toy to play with, Hannah spread her legs and used it on her clitoris, squirming around on the teacher's desk in her sexy stockings and suspenders as she masturbated to climax.
Get our superb Vintage Flash newsletter each week - all the latest model info, updates, set preview pics and more!