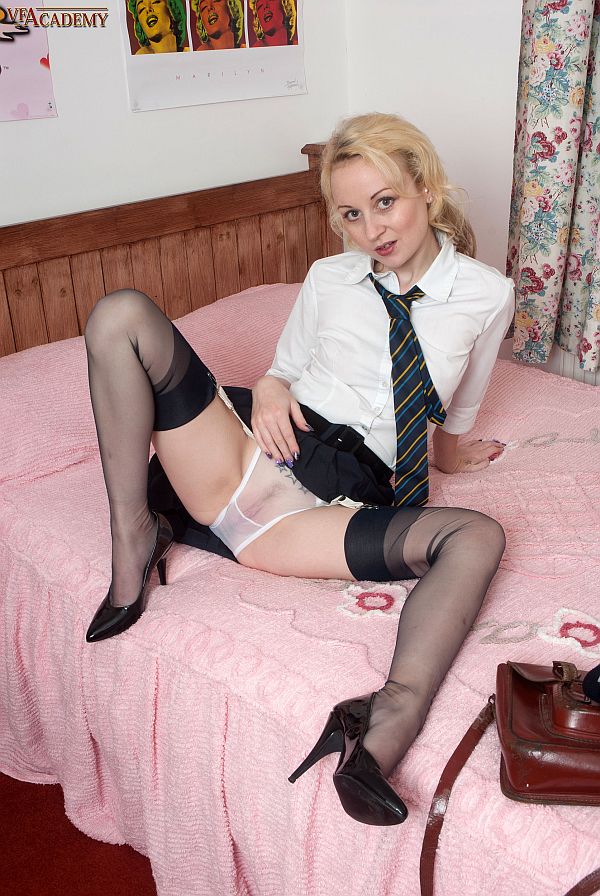 Kiana was waiting in her bedroom to meet up with the janitor for a mutual wanking session and she'd promised to be wearing her nylon stockings, suspenders and heels…
'I've been waiting for you for ages! I'm absolutely gagging for it!' Kiana said, relieved that he had finally arrived and eager to get on with their masturbation session together.
Kiana slowly drew her hands up her slender stockinged legs and brushed the edge of her skirt back to show the metal clasps of her suspenders attached to the black welt of her fully-fashioned nylon.
As she opened her legs the sight of her sheer nylon panties came into view and she rubbed her fingers over the front of the crotch, teasing her lovely cunt that looked so snug behind the tight, fitting sheer nylon.
Kiana stripped out of her skirt and unbuttoned her crisp white shirt to uncover her petite all natural boobs, then lay back with her legs open while she rubbed the the pink slit of her pussy through her sheer nylon knickers.
'Go on then, show me how you rub your cock,' she asked, grinding her hips and pushing the mound of her nyloned pussy against her fingers as she masturbated openly. 'Go on get it nice and hard, I like watching you do that!'
Getting into a kneeling position she slipped her hand inside the back of her panties and gave her pussy a nice, little rub with her fingers. Then she grabbed her panties at the rear and pulled them down so they were stretched around her thighs, where the delicate nylon of her seamed stockings wrinkled around the back of her knees as she masturbated.
Kiana then turned to sit over the edge of the bed with her panties stretched around her ankles, teasing and rubbing her clit and pussy which was framed by the webbing of her garter-belt and tops of her nylon stockings.
Get our superb Vintage Flash newsletter each week - all the latest model info, updates, set preview pics and more!