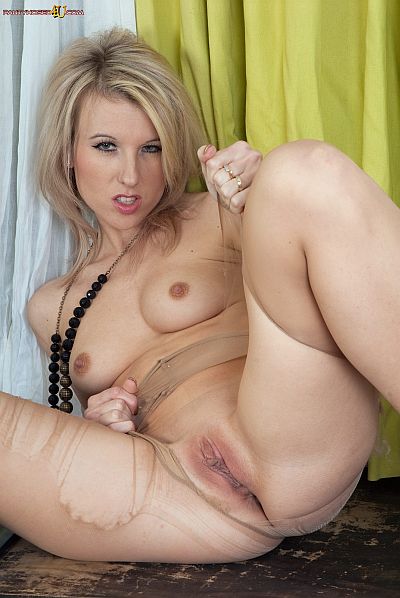 Evey was all dressed up in her short dress, pantyhose and slingback heels, ready to go out for a nice evening meal when I found her just finishing off some chores in the kitchen.
'What you got there, you naughty boy,' Evey asked, noticing the bulge in the front of my trousers. 'I can see your cock has got harder.'
Just looking at Evey's pert ass under the short fringe of her dress, and seeing her fabulous legs in sheer pantyhose was enough to make me excited.
Evey agreed to 'have a little play' before we went out, and flipped up her dress to show me she was wearing no panties under her pantyhose.  Presenting me with a rear view, Evey's lovely pear shaped ass looked so splendid encased in the soft sheer nylon of her sexy hosiery.
'These feel so nice against my skin, so nice and smooth,' she said about her pantyhose, as her hands began to explore her pussy through the front panel of her tights. 'It makes me excited as well, but I want you to get your cock out, right now!'
Evey became more excited as she continued to tease me, pushing her hands down the rear of her hose to finger her butt hole, and moving her pantyhosed ass so close to my face I could smell the warm musky fragrance of her sex.
Evey stretched and played with her pantyhose as she encouraged me to stroke my cock; her painted fingernails causing her tights to ladder as she tore through the nylon mesh and exposed the bare flesh of her rounded buttocks.
Shredding her pantyhose so that her pussy and ass where more fully laid bare, Evey spread the hot, pink lips of her juicy labia and masturbated to an ecstatic orgasm.
See Evey Krystal teasing and masturbating in ripped pantyhose in this (138 image) photo set and hi def video – 'Ready To Go' at Pantyhosed4U.
Get our superb Vintage Flash newsletter each week - all the latest model info, updates, set preview pics and more!