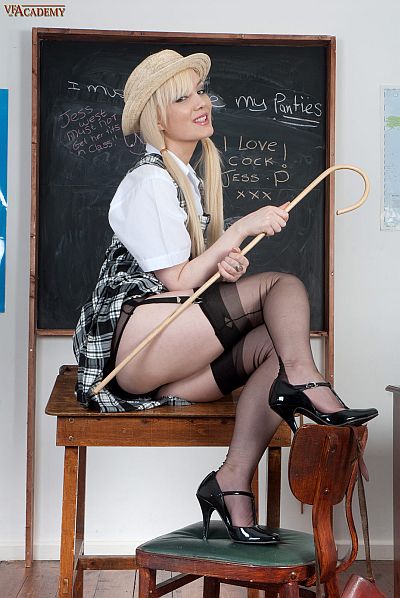 The janitor at VF Academy has quite a reputation with the girls, and Faye had heard stories about the size of his cock!
Needing to find out the truth for herself, Faye made sure to get put in detention one day, and waited for him in expectation.
Sure enough, our guy turned up to find Faye all on her own in the class room, and immediately she started to chat him up.
Curious to find out if the rumors were true, Faye got straight to the point… 'They said if I was really naughty, you might get your cock out for me?'
Faye sensed our janitor needed to see a bit more of what was under her uniform before he would unzip his trousers, so she had an idea…
'OK. What if I put on a little strip show, and you get your cock out for me,' she proposed, and as our naughty janitor heartily agreed, she clapped her hands in excitement and began her schoolgirl burlesque.
Removing her skirt and blouse, Faye teased him in her sexy stockings and suspenders, bending over the desk and encouraging him to stroke his cock and spunk on the front of her panties.
Then sitting on the edge of the desk with her stockinged legs apart, he watched in close up as she rubbed the crotch of her black see-through panties. He was so near, he could feel the heat and smell the musky fragrance of her hot cunt as her fingers massaged her moist hole behind the sheer nylon mesh.
Being a kinky little bitch, Faye inserted her sheer black panties right up her snatch and masturbated with them stuffed up her hole, while she instructed our guy to jerk-off over her ass and stockings!
See Faye Taylor stripping down to her stockings and suspenders in this (176 image) photo set, and watch her masturbating in her video – 'Panty Stuffing For Janitor' at VF Academy.
Get our superb Vintage Flash newsletter each week - all the latest model info, updates, set preview pics and more!