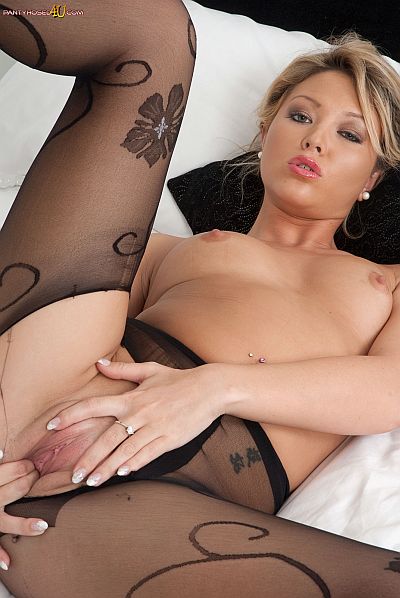 'You wouldn't turn me down would you? Wearing this sexy new pantyhose, tight little skirt, and corset?' Asks Natalia.
Natalia's idiot boyfriend has gone down the pub, leaving Natalia all dressed up in her sexy corset top, tiny micro skirt and super fab fashion pantyhose!
What's a girl to do when she's all sexed-up in her pantyhose and in need of an appreciative man to satisfy her needs? Why, offer to put on a sexy pantyhose show for us true lovers of girls in nylon, of course.
Standing so we get a proper view right up her skirt, Natalia begins her pantyhose tease.
'These tights are gorgeous, nice and tight, right in the crotch,' she says, rubbing her pussy through the nylon gusset, 'fit me perfect, don't you think?'
Showing us her pantyhosed ass and spanking her cheeks through the stretched nylon encasing her buttocks, Natalia gets herself all juiced up inside her hose as she massages her hot clit behind the tight nylon screen.
Writhing in pantyhose lust on the bed, Natalia invites you to poke your tongue through her pantyhose, then lick her hot cunt and asshole through the nylon mesh.
Finally ripping open her tights so her 'pussy can breathe', Natalia works several fingers up her sopping wet fuckhole and orgasms hard in her torn pantyhose.
See Natalia Forest in this (127 image) pantyhose photo set and watch her frigging herself off in her video – 'Before He Comes Back' at Pantyhosed4u.
Get our superb Vintage Flash newsletter each week - all the latest model info, updates, set preview pics and more!