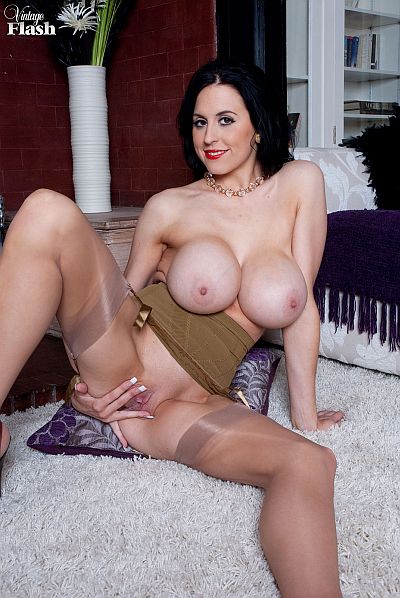 'Hello Darling, I've got on something very special for you today,' began Louise, as she sat in the corner of the large fireplace, looking very smart in her low cut black dress, stockings and heels.
'Not only have I got my fully-fashioned nylon stockings on,' she continued with a hint of promise in her voice, 'I've got a very special vintage girdle as well, just for you!'
Louise began her girdle seduction by showing off her shapely legs in vintage point-heel nylons, and put on a nice leg display; smoothing her hands up the length of her nyloned legs, and lifting her dress to reveal the tops of her sexy stockings.
Slipping out of her dress, Louise revealed she was wearing a lacy vintage girdle and stood before me half-naked, with her huge rounded tits hanging out front.
Then laying her girdled and nyloned self down on the rug, Louise squeezed her firm boobs and spread her seamed stockinged legs wide, so I could get up close to watch as she fingered her moist fuckhole.
Louise vigorously massaged her pussy as she sensed the approach of her orgasm, lifting her buttocks off the rug as she climaxed intensely in her girdle and stockings.
See Louise Jenson strip down to her girdle in this (144 image) photo set, and watch her masturbating in her video – 'Classically Girdled' at Vintage Flash.
Get our superb Vintage Flash newsletter each week - all the latest model info, updates, set preview pics and more!