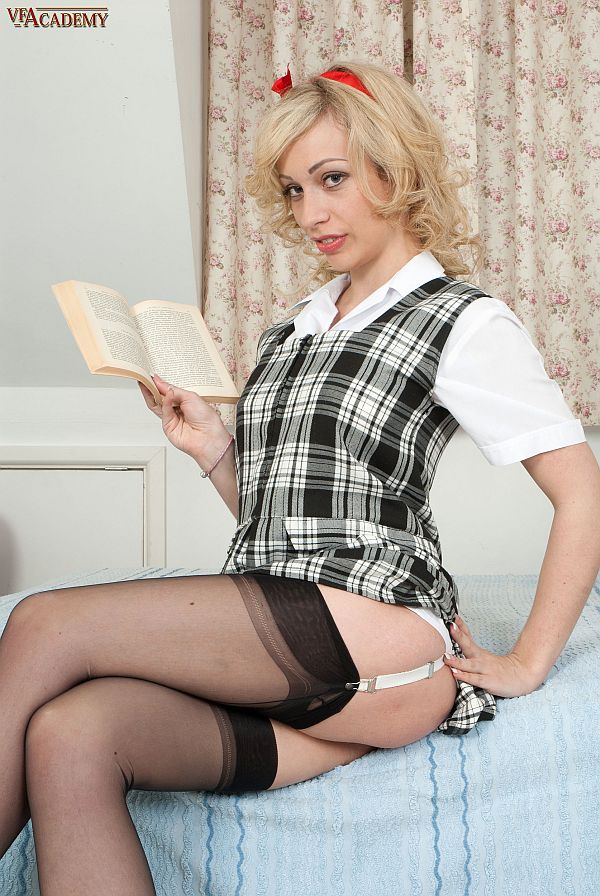 Chessie was caught not wearing any knickers under her uniform and sent to stay her room for the rest of the day on her own. Having learned she was sans panties and alone in her room, our naughty janitor went to keep her company on the chance she might let him see for himself…
'So do you want a quick peek,' Chessie asks the janitor and suddenly opens her legs and flashes her naked pussy at him before hiding it from view. 'Ooh, you do look excited,' she giggles, noticing the bulge in the front of his pants, 'I think someone needs to get their cock out, don't you?'
Chessie lifts her unifrom for another quick flash of her sexy, white suspender belt, then unzips her dress open at the front and lets it slide down her legs to the floor. Standing to give a view of her naked pussy framed by the white suspenders of her garter belt, she strips off her shirt to reveal she is wearing a white cotton bra that supports her huge round titties like a couple of hammocks.
'Have you been saving that big load for me?' Chessie grins, slipping the straps of her bra over her shoulders and uncovering her large boobs. 'I reckon you want to spunk right here,' she adds, rubbing her hands around the mounds of her massive norks with their perky, pink nipples.
Chessie lays back with her stockinged legs open wide, causing the webbing of her suspenders to pull on the tops of her black nylon stockings. She vigorously rubs her clitoris, jerking her hand against the juicy lips of her hot cunt and encouraging the janitor to shoot his spunk all over her hot body as she masturbates to intense orgasmic climax.
Get our superb Vintage Flash newsletter each week - all the latest model info, updates, set preview pics and more!