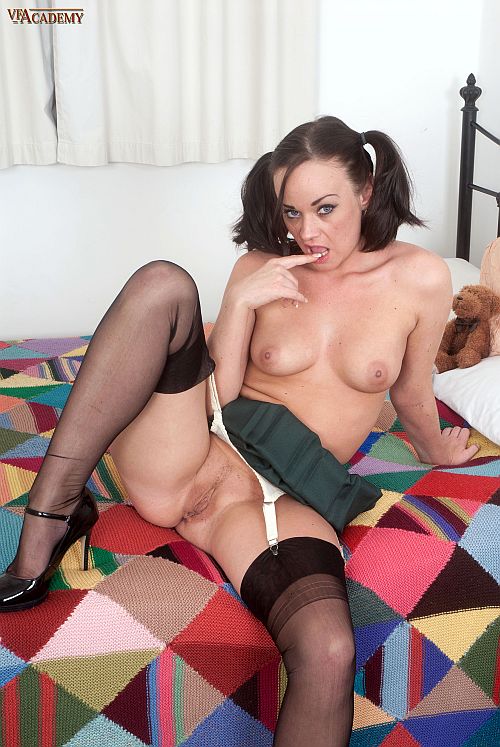 Kelly had just newly arrived at the academy and was up in her bedroom where she was trying to read her books. Unable to concentrate on studying, she welcomes having a chat with our janitor who had arrived at just the right time to catch her in the mood for some fun.
Kelly soon began flirting with him and gave a naughty smile as she teased up the edge of her skirt to give him a flash of her suspenders and stocking tops. Then she insisted that he get out his cock and show it to her, having already heard rumors about the size of it from the other girls.
Telling him she wants to see him wanking his cock, she strips off her shirt and short pleated skirt to reveal she is wearing white cotton panties, a yellow bra and a classic vintage garterbelt. Then removing her bra she plays with her petite all natural breasts, cupping the soft mounds in her hands and circling the erect nipples with her fingers.
Kelly moved right up close to pull down her knickers and reveal her naked pussy, all perfectly framed by the long suspenders with metal clasps attached to the tops of her fully-fashioned nylons; then she lay back on the bed and opened her stockinged legs wide to expose her naked cunt.
'I love touching myself, especially when thinking of you wanking your big, hard cock,' she said, slipping her fingers between the fleshy lips of her pussy and rubbing the area of her clit with circular motions. 'I like this, it makes me feel very naughty. Do you think I need to be spanked?'
Kelly closed her eyes as she focused on frigging her hot cunt, her hand moving rapidly between her thighs; the webbing of her garterbelt stretching out to the tops of her stockings as she fingered herself to an intense orgasm.
Get our superb Vintage Flash newsletter each week - all the latest model info, updates, set preview pics and more!