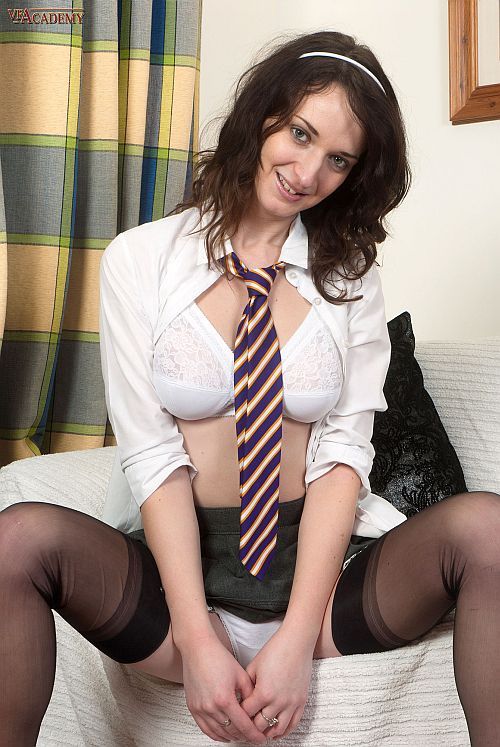 While Kim is doing her homework she feels very horny and finds the temptation to slip a hand under her skirt and play with the soft cotton panties that cover her pussy far to strong to resist.
'This is much more pleasurable than homework,' she says, as her fingers circle over and around her pantie crotch and tease her pussy through the tight cotton material. 'It's no good, I'm going to have to make myself cum,' she adds, closing her eyes as she succumbs to her desires for sexual relief and slips her hand inside her damp knickers to give her cunt the attention it needs.
Removing her sweater to get more comfortable, she feels her breasts through the front of her crisp, white shirt as her hand continues to rub her pussy through the crotch of her panties.Then stripping off her shirt altogether, she reveals she is wearing a white bra and stands to lift up her pleated skirt and pull her panties down her stockinged legs.
Taking off her bra to release her pendulous breasts, Kim sits down again and reaches into her satchel to bring out her favorite sex toy – a big purple 'rampant rabbit' vibrator. Then reclining on the sofa she inserts the vibrator between the lips of her pink, wet pussy, which is nicely framed by the white suspenders of her vintage garterbelt. Squeezing her breasts with one hand as she lays back and fucks herself with the dildo between her legs, Kim gasps with increasing pleasure as her orgasm builds up to the moment where she finally climaxes.
Get our superb Vintage Flash newsletter each week - all the latest model info, updates, set preview pics and more!