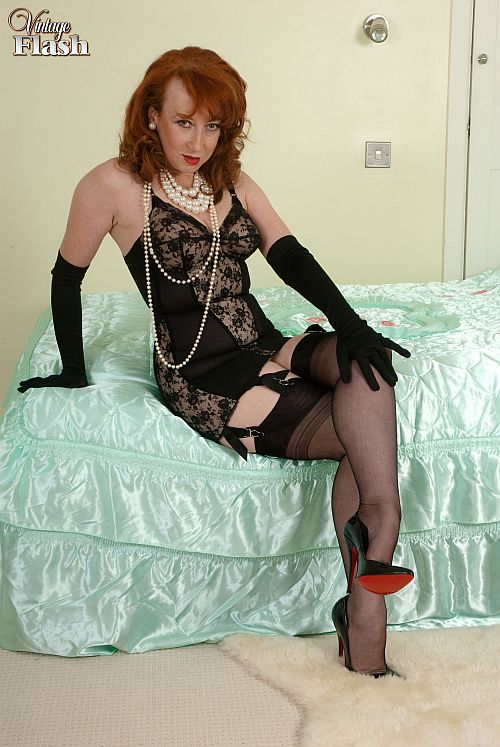 Red looked magnificently statuesque as she stood in the bedroom looking like a girdled goddess in her figure hugging corselete, black stockings and stiletto heels. 'Just look at that, beautiful lace with full cups, teasing you so you can't see a thing; all nice and tight around the hips, hugging those curves,' Red said, as she traced her hands over the outlines of her shapely body and posed to give me a full appraisal of her outfit.
'You said you liked a figure hugging corselettes,' she continued, turning to give me a rear view of her ass encased in her tight fitting foundation wear, 'just look at that!' Red wiggled her ass from side to side, then leaned slightly forward and ran her gloved hand up her shapely legs sheathed in black nylon; drawing attention to her killer heels and the long seam of her full-fashioned nylon stockings running up from her ankles.
'Look how well it fits, my boobs are completely encased, in those full pointy cups,' she added, moving her hands over her curvaceous figure bound by her corsellete and cupping them around the breast cones decorated in lace. Then pulling the bra cups downwards to uncover her voluptuous titties, she pushed, squeezed and kneaded them together around the pearl necklace dangled in her cleavage.
'I want you to come and ram your cock in there and give me the fuck of my life!' She said, kneeling on the bed with her ass tilted upwards as she pulled the lips of her cunt apart with gloved fingers. 'My favorite position, you know how I like it on my knees,' she added, offering up her gaping cunt, which looked perfect for the fucking all framed by her girdle, stockings and suspenders. 'I want you to fuck me hard like this,' she suggested, humping her ass up and down, which made the taut suspenders stretch and strain against the tops of her black nylon stockings.
Nylon clad legs, heels, corselette! What else could you wish for? Do you think you could handle Red and give her the fucking she needs? She's ready and waiting for you now…
Get our superb Vintage Flash newsletter each week - all the latest model info, updates, set preview pics and more!