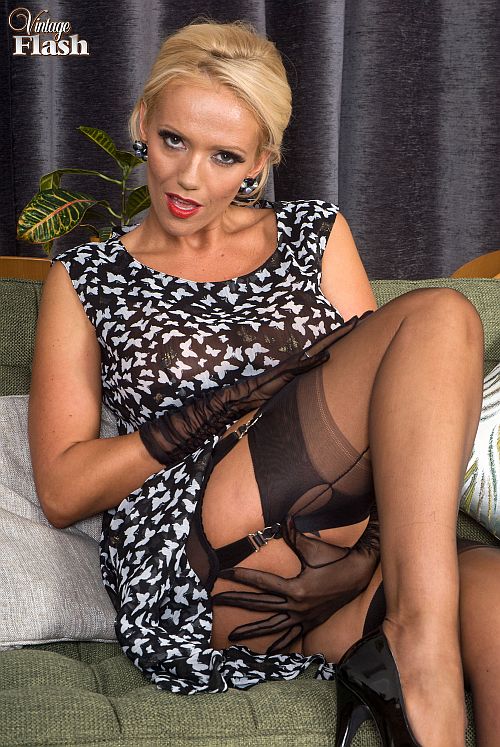 'I always like to please my man and know you love seeing me wearing nice, sexy clothes and saucy underwear', Lucy said, lifting her dress up over her girdled ass and running her gloved hand up the back of her seamed stockinged legs to where her suspenders were attached to the tops of her nylons.
Sitting on the sofa she spread her legs to reveal she was not wearing any panties, one hand carefully concealing her naked pussy from sight. Then she extended her legs so her stiletto heels pointed outwards and caressed them from her ankles, right to the tops of her thighs clad in shiny sheer, nylon.
Slipping her hand between the top of her nylons and the bare flesh of her thigh caused the taut suspenders of her girdle to pull and strain on the black welt of her nylon stockings. She then stood and unzipped the dress, letting it slowly slide down over her curvaceous figure to fully reveal the black all-in-one girdle she was wearing underneath.
'I want you to take down your trousers now, to see how excited you are watching me,' Lucy said, then opened her legs and massaged her bare naked pussy with her nylon gloved hand. 'Would you like me to grasp your cock with my nylon gloves and wank it for you,' she asked, reaching out and flexing her gloved fingers as if wrapping it around a cock.
'Oh, yeah, play with me! Give me that big cock and I'll wrap my red juicy lips around you,' she gasped, licking her tongue around her lips and playing with her huge breasts; rolling the stalks of her erect nipples between her gloved fingers.
Kneeling on the sofa, she presented her girdled ass and pussy, spreading the pink lips of her gaping cunt with her fingers and inviting a fuck. The black suspenders of her girdle stretched over the back of her thighs to the tops of her stockings, perfectly framing her cunt and the puckered ring of her anus.
Get our superb Vintage Flash newsletter each week - all the latest model info, updates, set preview pics and more!