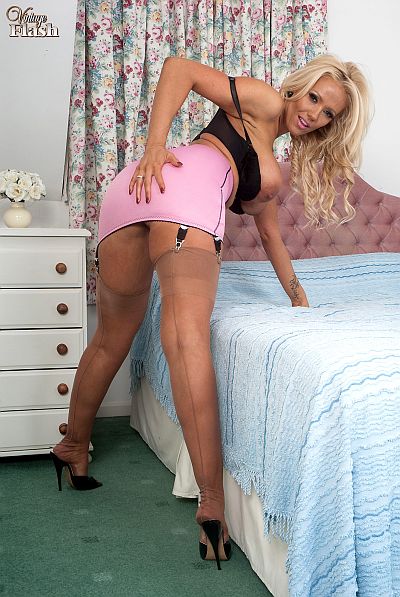 'I know exactly what you like, so I thought I'd come dressed for the occasion for you,' Lucy said, leaning forward to give me a view of her bust in the sexy black bra she was wearing. 'It makes me feel so horny and sexy, being dressed in my nice, tight girdle and of course, my tanned nylons and sexy mules.'
Lucy lay on the bed and extending her leg so I could see the slit of her naked cunt, she traced her finger right up the line of her seamed stocking. 'It turns me on so much knowing you are watching me stroke my nylons which are so soft and silky,' she said, playfully slipping her hand down the top of her stockings and circling her fingers over the soft, naked flesh of her thigh.
'I love it the way the girdle is so tight around my ass, we couldn't get it much tighter could we? My six strap suspenders pulling my nylons up, nice and high!'
Lucy lay back and lifting her legs up in the air she brushed one stockinged leg against the other, causing them to whisper with the sexy sound of nylon on nylon. She then slipped the straps of the bra off her shoulders and uncovered her voluptuous breasts; her hands moving sensually over the contours of her body and caressing the full, fleshy mounds of her boobs.
'I bet you'd love to run your hands over my nylons, wouldn't you? And maybe not just, your hands, but your cock… Nice and big and hard!' She said, bending over and running her hands up and down her shapely legs in their soft and silky, seamed tan nylons. 'Imagine your cock rubbing against my sexy arch,' she whispered, dangling one of her heels and massaging her fingers against the sole of her nyloned foot.
Lucy then lay face down and stretched her legs out so I had a close up view of her feet and the long seam running up to the tops of her stockings. She then slipped off her heels one by one and rubbed her sexy stockinged feet together, making them rasp with the sound of brushed nylon as she moved one foot against the other.
Get our superb Vintage Flash newsletter each week - all the latest model info, updates, set preview pics and more!