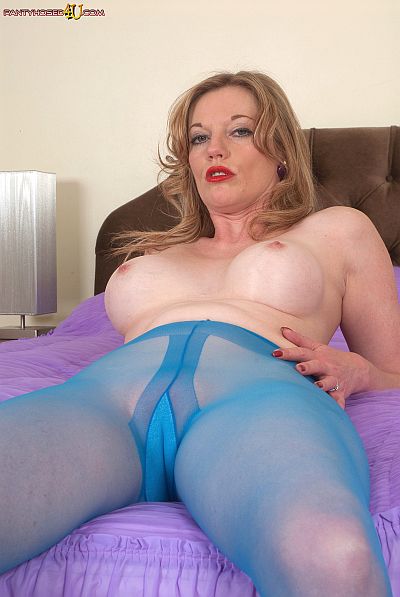 'You know I can really feel them right between my wet pussy lips, it's such a turn on,' Holly remarked, standing with her short leather skirt pulled up to show me the outline of her pussy through the special silk gusset of her pantyhose, which formed a perfect cameltoe around the lips of her cunt.
Eager to show me the remarkable effect these sensual pantyhose where having on her libido, she slipped her finger into the pantyhose groove that formed between the raised ridges of her pantyhosed pussy and gave it a rub.
She turned around to show me her ass encased in a tight layer of blue nylon holding her buttocks firmly in place, then reached under her crotch and stroked her hot cunt through the soft, silky gusset.
Holly removed her top and bra, then unzipped the skirt and teased it down slowly over the nyloned globes of her ass. Pulling the skirt off slowly, it made a loud swishing sound with every downwards tug and slipped down her long legs to the floor, whereupon she kicked it to one side.
'You know one of the things I like the most, is to run my long nails up my pantyhose,' Holly said, drawing her fingers up the inside of her leg to the area of her pantyhosed crotch, where they circled over the reinforced patch of her nylon gusset. 'It sends a tingling sensation all through my body and I can feel my clit swelling just where that piece of silk sits over it, in the right place.'
Laying back on the bed with her legs spread open she massaged her pussy through the blue, opaque pantyhose gusset. Her nyloned ass writhed on the cool satin sheets as she masturbated and slowly built up the erotic sensation which stirred in her loins.
Holly experienced mounting pleasure as her hand rubbed her pussy through the silky, crotch of her pantyhose. Her hips bucked in response to the increasing sensations coursing though her body and then all of a sudden she reached the inevitable orgasm and climaxed hard in her sexy, silky pantyhose.
Get our superb Vintage Flash newsletter each week - all the latest model info, updates, set preview pics and more!