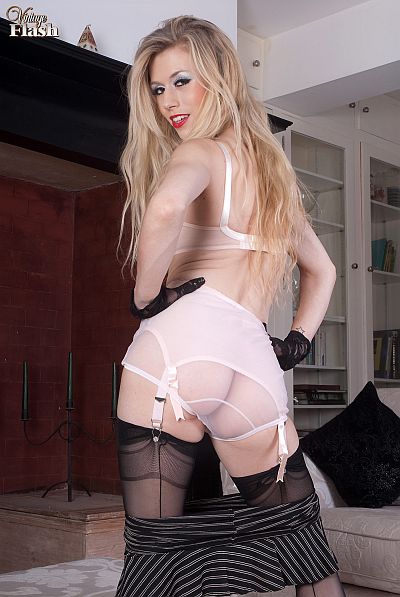 Michelle was going to a garden party, but having dressed in one of her racy outfits she wondered if she may be a bit overdressed for the occasion. She was having second thoughts about wearing her low cut top, high waisted skirt, fully-fashioned French nylons and sexy black mules. Maybe she should undress and find something else to wear?
Michelle stood in her heels as she turned to show me just how sexy she looked in her racy attire. Then just to confirm how revealing her skirt looked, she bent forward so her skirt wrapped tightly around the contours of her shapely ass. Her outfit was having it's own effect on her libido and wanting to tease me further she moved her hands up the back of her seamed stockinged legs, causing the lace gloves to whisper as they brushed over the surface of her nylon stockings.
'Look at my stockings tops, very fancy,' she remarked, pulling the hem of her skirt up slightly to show me the tops of her sexy French nylons. 'I can't stop rubbing them they are ever so nice,' she continued, drawing her hands up the length of her slender legs encased in slick, black nylon.
Michelle removed her top to reveal she was wearing a pink, almost see-through bra that fitted tightly around her breasts. Then stripping out of the bra she pulled her skirt down to show she was wearing pink, sheer nylon panties and a vintage garterbelt.
Kneeling on the chair she tipped her pantied ass upwards giving it a wiggle, which caused her stocking tops to strain as her taut suspenders pulled against them. Then she tugged the elasticated, nylon panties over her buttocks and seductively slipped them down her legs and over her heels.
Michelle leaned back against the chair in an almost squatting position with her weight supported by her heels and opened her stockinged legs to expose her naked cunt. She reached between her thighs and rubbed her lace gloved hand against her hot clitoris and massaged the lips of her gaping pussy. Her hips moved up and down as she teased her cunt with gloved fingers and pulled open the pink labia to show it was slick with her juices.
Get our superb Vintage Flash newsletter each week - all the latest model info, updates, set preview pics and more!