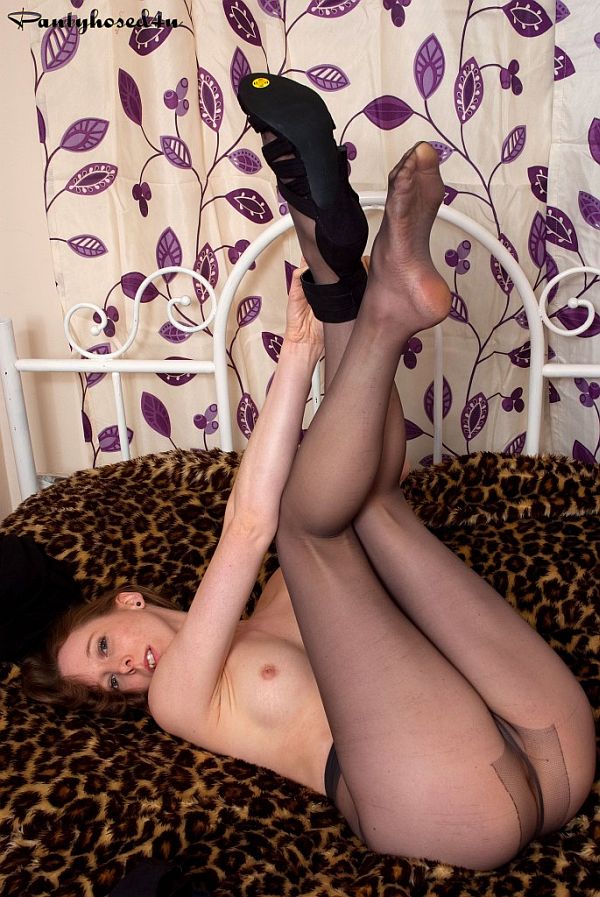 Lottie put on a fresh pair of pantyhose and looked at herself in the mirror and admired her legs, sheathed in their layer of clingy nylon. She began to feel horny and enjoyed the sensation of her hands as they brushed over her thighs and made contact with her bare flesh beneath the surface of her pantyhose nylons.
Lottie tugged at the waist of her hose, noticing how snug they felt around her pussy and the way they clung to her buttocks as she leaned over and drew her hands all the way up her legs.
She'd never felt so sexy before in her pantyhose and wasn't sure why these particular ones made her feel so aroused. Whatever, her pussy began to tingle as she  indulged in this new found pleasure and ran her hands over her ass and between her thighs to feel her cunt encased in tight nylon.
Lottie reclined on the bed to take off her shoes and caressed her slender legs as she lifted them up and pointed her nylon covered feet and toes at the ceiling. Then her hand slipped down the front of her tights and she spread the lips of her pussy, so the pink wetness of her cunt showed through the sheer nylon of her pantyhose crotch.
Lottie wondered what it would be like if she were to rip up her hose, so she tore into the nylon with her fingers and made them run in ladders all the way down her legs and right over her feet. It made her feel naughty as she pulled on the tattered strands of nylon and enjoyed the sensation of the sheer fabric as it popped open against her flesh.
Get our superb Vintage Flash newsletter each week - all the latest model info, updates, set preview pics and more!