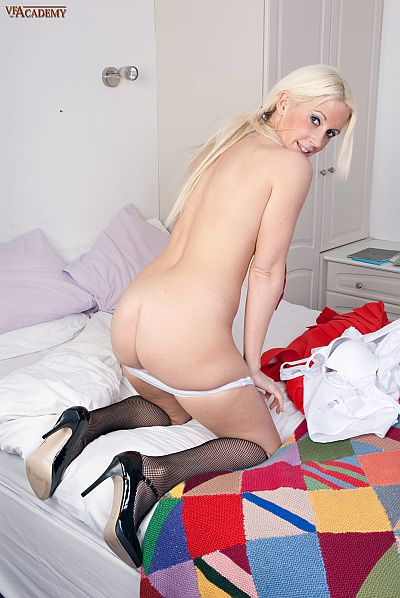 'I'll tell you what I like to do as soon as I've got the house to myself, I like to have a bloody good wank!'
Krystal has had a hard day at school and she waits in her bedroom for her parents to go out so she can have a play with herself.
Once her parents are out the door, Krystal removes her pleated skirt and blouse, stripping down to her panties, net-knee socks and her nice new school pumps which she rather likes.
She undoes her shoe straps and lets her pumps dangle from her feet before slipping them off.
Then Krystal kneels on the bed letting us view the slit of her pussy though her sheer white nylon panties, and pulls them down over her arse.
Finally naked, Krystal can get down to playing with her pussy, and she lies on the bed and fingers herself to a wet juicy orgasm!
She's a bit stroppy at first, but once she's out of her uniform Krystal shows us how she likes to have naughty fun in 'Krystal – I Love To Wank!' from VF Academy.
Get our superb Vintage Flash newsletter each week - all the latest model info, updates, set preview pics and more!