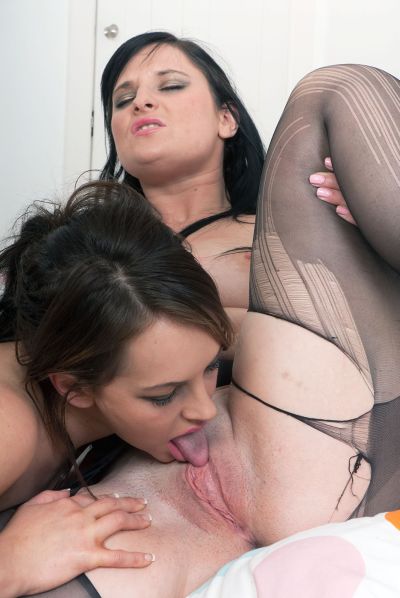 Vicky really can't be bothered to go out partying tonight, so she decides she would prefer to stay at home and enjoy a girls night in with her flatmate, Nicky.
After all, it's amusing to create some home entertainment, pantyhose fetish style that is… So why go out for fun, when there is so much more sexy fun to be had feeling up your friend's pussy in her nylon pantyhose?
Pantyhosed and knicker-less, both girls excite each other as they explore their nylon covered pussies, using fingers and tongues to stimulate their throbbing clits trapped behind the nylon front panel of their hose.
Vicky licks Nichola's fat and juicy pussy through the sheer nylon mesh of her pantyhose, making her friend get even wetter as her tongue washes over her hot nylon snatch.
Both girls then simultaneously masturbate together, each with their hands down the front of the others' pantyhose.
Then it's Nichola's turn to go down on Vicky, and ripping open the gusset of her friend's pantyhose she licks her sopping wet hole, and tastes her juices as they flow onto her tongue.
Both girls continue to pleasure each other in their torn pantyhose, taking it in turns to make the other cum, until both are fully satisfied.
See Nicky & Vicky in this (133 image) photo set, and watch them cum in their pantyhose in their video – 'Girls Night In' at Pantyhosed4u.com.
Get our superb Vintage Flash newsletter each week - all the latest model info, updates, set preview pics and more!