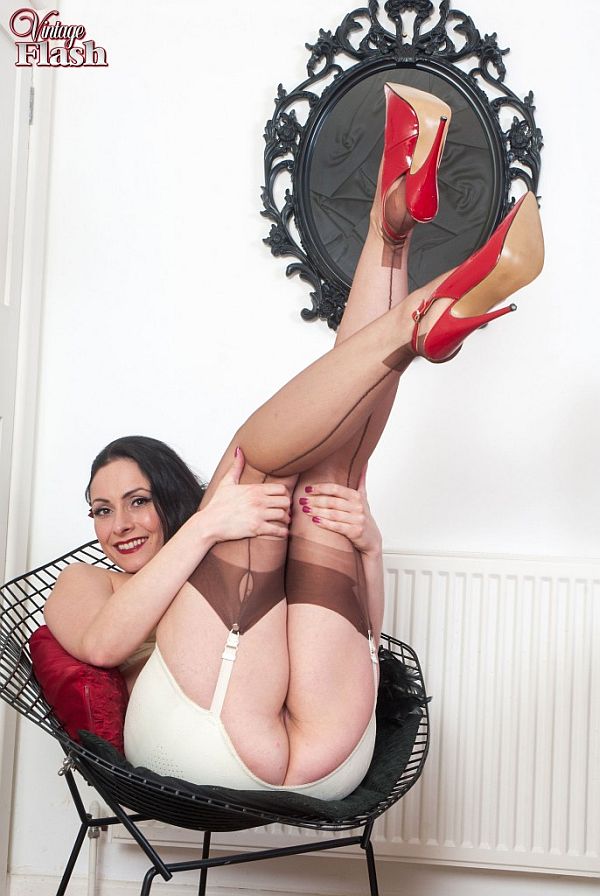 'So you are going to dominate and have your wicked way with me, are you?' Asked Sophia, who was wearing a Playtex rubber girdle, strapless vintage bra, coffee coloured ff-nylon stockings and red stiletto heels, all ready for some sexy nylon fun in the bedroom. 'I do like that, so just think of all the things you could do with me!'
As much as Sophia likes a dominant man to give her a hard fucking, she also likes to switch roles and wearing all that foundation wear she was very much in control of the situation.
'Do I show you anything yet, or do I leave my clothes on a bit longer?' Sophia mused, as she lay on the bed showing off her tightly girdled ass and stockinged legs, then added, 'I think I'll keep them on a little bit longer, but what I will do is let you have a good look at my sexy shoes.'
Sophia stretched out her legs along the bed so her shiny red heels were right up close, and then commanded me to lick the soles of her shoes clean and suck the heel. She briefly opened her legs and I caught a flash of her cunt, and seeing that I'd seen it she asked if I'd like to give it a licking as well.
'Start by popping your tongue in there,' she suggested, opening her legs and pulling back the pink flaps of her moist cunt, saying, 'lick my sweet, little pussy, then concentrate on my clit and lick me till I'm dripping wet!'
Sophia continued her teasing by stripping off her bra to release and play with her gorgeous all natural tits, then laying back with her legs apart she played with the wet petals of her cunt and offered her heels for me to worship once more.
Getting into a kneeling position so I could see her suspenders stretching over the back of her thighs, she commanded me to lick her heels and and continue up the seams of her fully-fashioned stockings until I reached her ass and pussy where I was to use my tongue…
Are you ready to worship Miss Delane's sexy heels, legs, pussy and ass as she commands? Well, you can enjoy the experience in this 'point-of-view video' where she teases and encourages you to wank your cock while you get to work with your tongue and then cum over her rubber girdle.
Get our superb Vintage Flash newsletter each week - all the latest model info, updates, set preview pics and more!