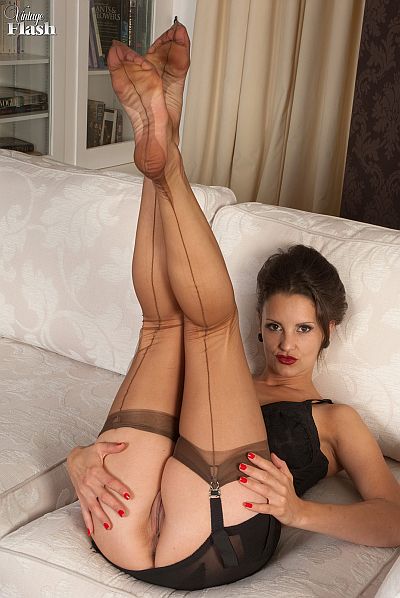 'Well, Hello!' said Valantina, who was very pleased to see me when I turned up to see her one afternoon, finding her in a horny mood and ready to put on a very sexy show.
'I've got on all my foundation wear today,' she told me,  feeling the outline curves of her boobs and waist through her top and skirt.
'I have these rather brown fully-fashioned nylons on, which I know you love seeing me wearing,' she said, smoothing her hands up the length of her slender nyloned legs in from the ankles of her leopard print heels to the tops of her stockings.
'There's nothing quite so sexy as the top of a ladies stocking, is there, look!' she indicated, drawing my attention to her stockings and suspenders as she stood before me with her skirt hitched up about her waist.
Val stripped off her top and skirt until she was left standing in a black long line bra, black girdle and sexy seamed nylons, then invited me to get a real close up view of her vintage underwear.
Bending over in her tight waisted girdle, Valantina continued her erotic tease, swaying her ass from side to side as she ran her hands up the backseam of her nylon stockings, then moving her hands over her inner thighs and touching the metal clasps of her suspenders.
'Oh, I need you to suck my clit! she said, as she lay back on the sofa and spread the lips of her labia, using her fingers to massage her lovely hot pussy and putting them to her mouth to lick off her juices.
Pleased to see me, Valantina spread her legs even further, putting on a raunchy pussy in stockings show, as I watched her masturbate to orgasm in her girdle and nylons.
See Valantina strip down to her underwear in this (152 image) photo set and watch her masturbate to orgasm in her video – 'Well Hello'.
Get our superb Vintage Flash newsletter each week - all the latest model info, updates, set preview pics and more!