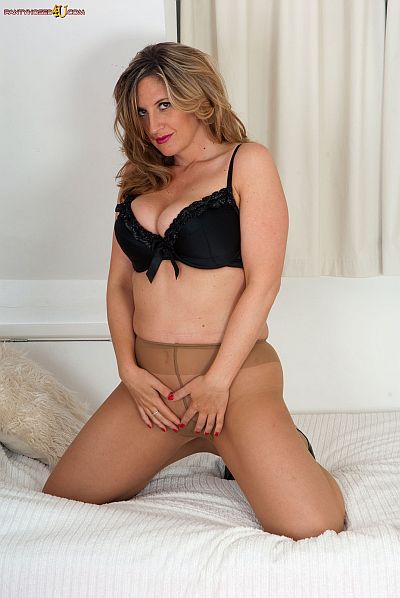 Jenny is going to be your special tart in pantyhose today, and she's wearing some very special hose for you – extremely silky Wolford nearly-nude pantyhose, which are her favorites.
The subtle sheer caress of classy nude pantyhose is something Jenny really appreciates, and she loves the look of the sexy silky sheen of her Wolfords as they catch the light.
She tells us she loves the way her lovely tights make her legs look longer, especially while she is wearing high heels. She's a very classy looking tart in her luxury pantyhose, indeed.
'The gossamer like sensation of nylon excites me,' she says, as she moves her hand over her crotch, enjoying the feeling of tight nylon encasing her pantyhosed pussy.
Jenny likes that it turns you on too, a shared fetish is such a turn on, is it not?
'You can even put on a pair yourself if you like and wank your cock through them, ' she suggests.
'That's right get that cock our for me, start rubbing it, and stick it in my tights!' she says, encouraging you to get you cock out and rub it up her long nyloned legs.
These are special pantyhose, for a special tart, and she wants you to enjoy them as much as she does. So let's enjoy the nylon together…
See Jenny's legs and pussy in pantyhose in her (138 image) photo set, then watch her masturbate through her tights in this video – 'Naughty Nude Hose'.
Get our superb Vintage Flash newsletter each week - all the latest model info, updates, set preview pics and more!