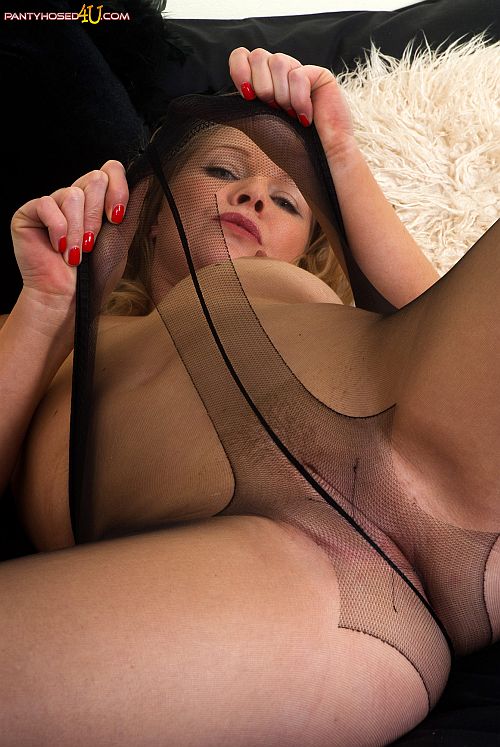 'Guess what? I'm wearing my pantyhose and no panties,' Abi said, as she lay on the bed and talked in her most seductive, husky voice. 'It's making me feel ever so horny. Do you want to feel how soft and sexy they are against my skin?'
Abi knelt and raised the edge of her tight fitting dress just above her nyloned thighs to show she was sans panties under her sheer to waist pantyhose. 'You like that don't you?' She said, lifting up the back of her dress and running her hands over her sumptuous ass encased in shiny black nylon. 'I bet you'd like to wank and cream all over my pantyhose, wouldn't you?'
Sitting on the edge of the bed she opened her legs to give a flash of her pantyhose gusset, saying, 'Look, no knickers. I'm such a dirty girl, aren't I?' Then she stood and gave me a close up view of her pantyhosed cunt, which I could see behind the tight, nylon screen of her dark pantyhose.
Abi took off her dress and bra then lay on the bed and pulled up her pantyhose so they were tight around her nyloned cunt, then ran her fingers over the black seam and the groove of her pantyhosed slit. Pushing her hands down the front of her hose she massaged her sopping wet pussy, then lay on her side and felt up her pantyhosed arse. 'I love it when you rub your cock against me,' she said, sliding her finger between the cleft of her nyloned buttocks, 'it feels so naughty.'
In her mounting excitement Abi ripped her tights wide open, causing them to ladder down her legs and exposing the flesh of her hot cunt the opened crotch. Then kneeling in her torn hose so her ass and pussy were in full view, she slipped several fingers into her wet slit, saying, 'I know I'm going to cum soon, so you need to be ready to spunk all over me!'
Abi ripped at her tights around her legs, making then ladder even more and her buttocks jiggled as she masturbated on her knees. Then she lay back down with her legs open and slotting her fingers up her juicy cunt she frigged herself off to an intense pantyhose climax.
Get our superb Vintage Flash newsletter each week - all the latest model info, updates, set preview pics and more!