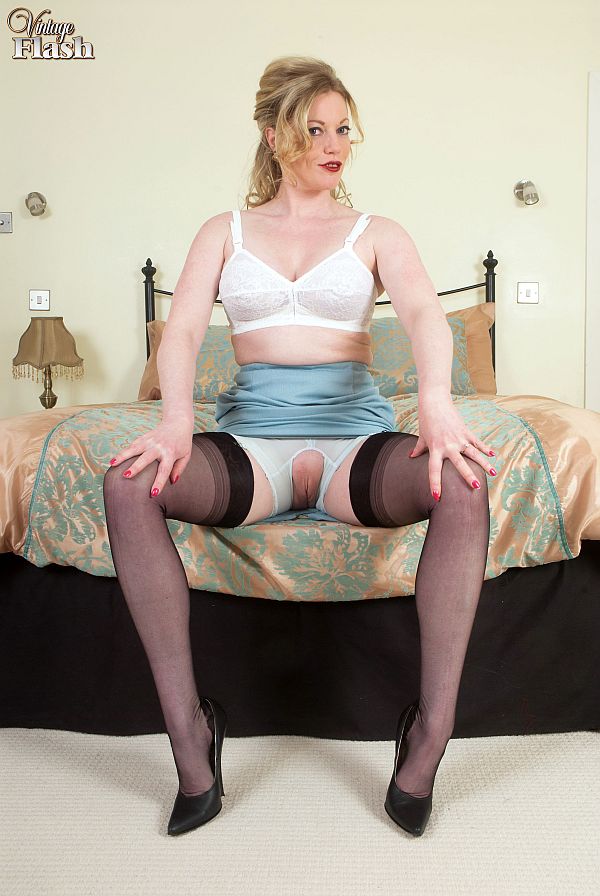 Holly invited me round because of something she was wearing that she knew I would find really exciting, but decided to tease me a while before she showed me her surprise…
'I like to dress elegantly because I know it's a fantastic tease to you,' Holly said, inviting me to take a good look at her legs in their seamed black nylon stockings and stiletto heels. Then she knelt on the bed and I could see the bumps of her suspenders through the material of her pencil skirt as it wrapped tightly around her fabulous arse.
Sitting on the edge of the bed she slightly parted her legs to give me a tantalizing upskirt view, and I could see she was wearing something crotchless that framed the area of her pussy. She then crossed her legs and pulled up the hem of her skirt, her fingers playfully lingering around the top of her thigh and the welt of her black nylon stockings.
'The one thing about fulling-fashioned stockings is they fit like a glove,' Holly continued, talking about her stockings in a way she knew I found exciting. 'You put them on and they glide up your leg, over your knee and up to your thigh,' she added, as her hands moved over the contours of her shapely legs in their soft, silky nylons.
Holly stripped off her blue satin top, revealing a vintage, white bullet bra that fully supported her large boobs and unzipping that the back of her skirt, she slowly pulled it down over her ass to uncover her 'surprise'.
'Can you see what it is?' Holly said, sliding the remainder of her skirt down her thighs to reveal she was wearing a baby blue pantie girdle, which had an open crotch 'for easy access'.
Holly lay back with her legs spread apart to give a view of her cunt and the puckered ring of her ass framed by the lascivious open crotch of her pantie girdle. The stretchy Lycra material clung to the curves of her butt as she moved into a sideways position and offered another view of her girdled sex.
Getting into a kneeling position on the bed she presented me with a view of her arse and pussy, telling me how she'd like to be fucked from behind by a large, hard cock. Her fingers circled around her clitoris as she rubbed the open lips of her cunt and masturbated to climax in her sexy open crotch girdle.
Get our superb Vintage Flash newsletter each week - all the latest model info, updates, set preview pics and more!