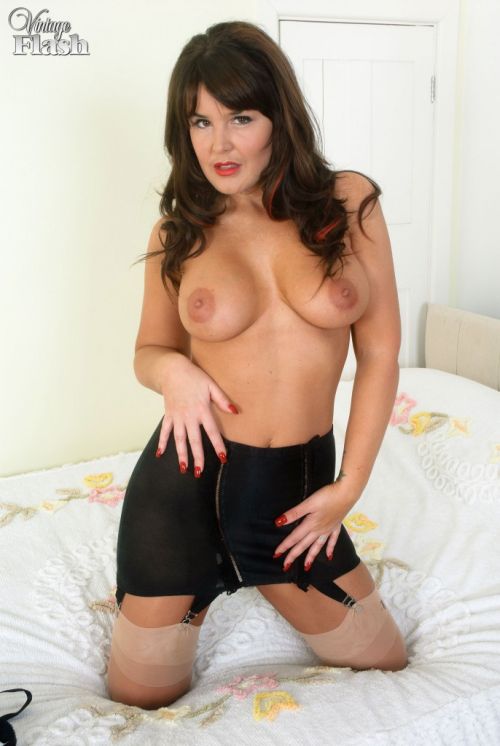 Hot MILF brunette Elle looked both sexy and elegant in her silky blouse, tight pink pencil skirt and matching heels as she turned to let me admire her outfit and the way it enhanced the shape of her figure.
'I love dressing for you in my nylons and stiletto heels,' Elle said, now sitting on the stool by the dresser, where she slipped off her heels and showed me her painted toes through the foot of her sheer nylon stockings and ran her fingers over her instep and toes.
Standing to give a rear view she leaned forward so her skirt pulled tightly around her shapely arse, then lifted it up to show me the seams running up the back of her legs to the 'super deep tops'  of her fully fashioned nylons.
Stripping off her silky top revealed she was wearing an almost sheer black bra which uplifted and shaped the cleavage of her fleshy boobs. Then she unzipped the skirt and let it slide down her stockinged legs, to reveal she was wearing a black, vintage girdle that tightly encased the feminine curves of her hips and buttocks.
Elle lay on the bed and lifting her legs upwards she pointed her toes so that the metal clasps of her girdles suspenders strained at the tops of her stockings and pulled them taut against the soft flesh of her thighs.
'Keep wanking that cock for me,' she encouraged, as she opened her legs wider and exposed the lips of her hot pussy framed by her girdle and stocking tops. Reaching between her thighs she massaged her cunt with rapid circle motions, then inserted several fingers between the tight lips of her labia, saying, 'It turns me on, having you watch me play with my pussy!'
Elle then put her fingers to her mouth and sucked the juices off them before she resumed masturbating with her fingers deep in her cunt, her girdled hips moving up and down with increasing sexual arousal as she reached an intense orgasm.
Get our superb Vintage Flash newsletter each week - all the latest model info, updates, set preview pics and more!