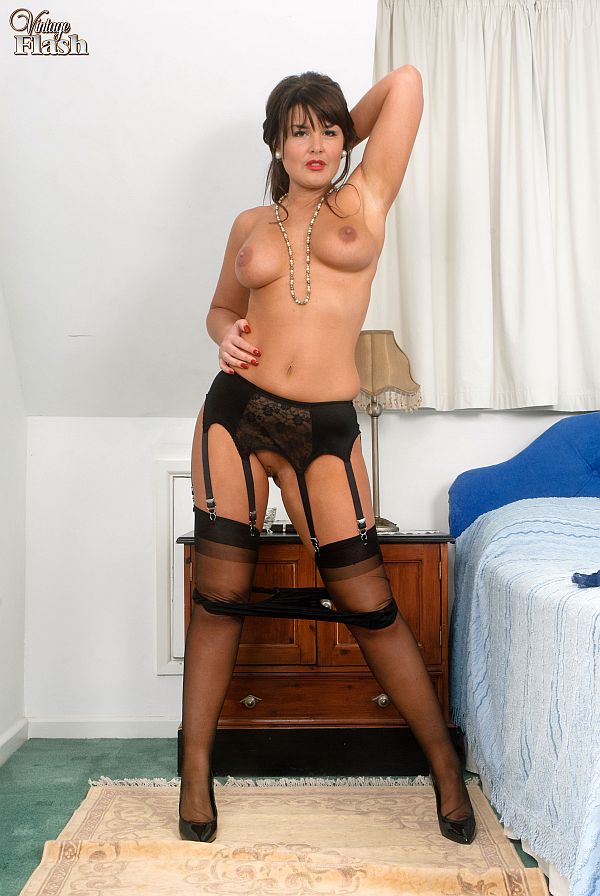 Curvy brunette milf Elle loves wearing silky feminine underwear as it makes her feels so horny and she knows I love it too…
She dressed in some black nylon rht stockings, a slinky, blue nylon slip that clung to her hips and patent leather heels in preparation for a night of passion in the bedroom and invited me to stroke my hands up her shiny nylon stockings.
'So, start wanking your cock for me while I'll lay back on the bed and tease you,' she suggested, as she reclined on the bed and slipped her hand down the front of her tight black panties to give her pussy a feel.
Pulling down the top of her slip, her hands swept over the mounds of her fabulous tits as she lay masturbating, then they caressed the silky, soft nylons that covered her shapely legs which she lifted up and pointed at the ceiling.
Elle stood and turning her back she leaned forward as she pulled her black panties over her fleshy buttocks and down her legs, leaving them stretched around her ankles. Still bending over, she ran her hands over the back of her stockinged legs and over the curves of her plump ass and thighs.
Turning around again, she stood and swayed her hips and teased me with a view of her cunt all nicely framed by the suspenders of her multi-strap garter belt stretching down to the tops of her black nylon stockings.
Laying on the bed once more she slipped off her shiny heels and massaged her stockinged feet, then putting them close together she offered a view of her nyloned soles and rubbed both of her feet together in a way that looked so sexy.
Elle pulled her legs back against her chest so her fleshy pussy and sumptuous ass were in full view and maintained that position as her hand moved in rapid movements pressed against the lips of her juicy cunt.
Massaging her fingers over her clitoris in circular motions caused her hips to rotate on the bed as she built up her pleasure, her breathing coming in shorter and deeper gasps as she frigged herself off to an intense climax.
Get our superb Vintage Flash newsletter each week - all the latest model info, updates, set preview pics and more!