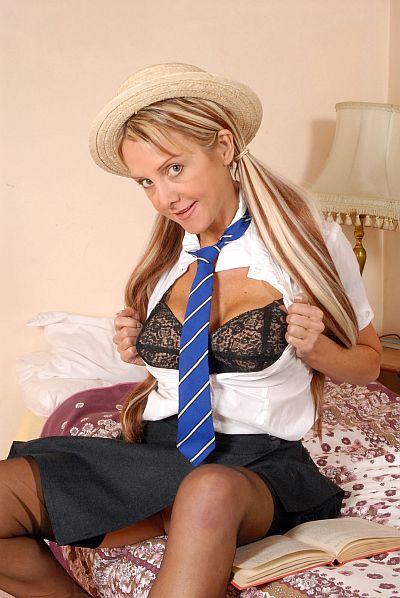 Wendy Jane does not want to do any homework to day, and tells us she'd rather read a sexy book. She's just come home from school and is dressed in white blouse, tie, pleated skirt, seamed stockings and black patent court shoes.
The book she is reading makes her horny and she starts to undress. She unbuttons her white blouse, revealing she is wearing a vintage bullet bra, which is holding her generous size 34D boobs in place! She's a busty girl, all right, and a very naughty one indeed.
Wendy Jane lifts up her pleated skirt for us to get a good look at what she's wearing underneath. Black fully-fashioned nylon stockings, a suspender garter-belt with metal clasps and no panties! Is it any wonder she is feeling so horny?
Lifting her skirt higher, Wendy Jane delicately runs her hands over her naked pussy, so nicely framed by the straps of her suspender belt.
Turning, she lifts her skirt high over her naked behind and gives us a great view of her bare ass and pussy. She runs her hands over her soft naked buttocks, and allows her hands to move sensuously over her legs in their seamed nylon stockings, which are starting to wrinkle behind her knees.
Removing her skirt, Wendy Jane lays back on the bed and begins to masturbate, allowing her fingers to touch her asshole and delve into her pussy. Kneeling on all fours with her ass in the air, she takes out her pink vibrator from under the pillow. Wendy Jane inserts her sex toy in her pussy and using her other hand masturbates her clit. She rolls onto her back and with her stockinged legs wide open she continues to masturbate until she climaxes.
Watch naughty Wendy Jane strip out of her school uniform and masturbate while wearing her wrinkled ff-nylons, vintage suspender belt and high heels in this explicit stocking sex movie from Vintage Flash.
Get our superb Vintage Flash newsletter each week - all the latest model info, updates, set preview pics and more!