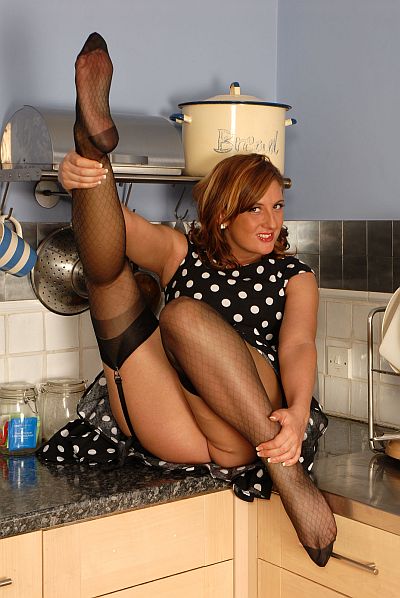 You arrive home from a hard day at work to find Jenny getting your dinner ready in the kitchen.
Jenny is a feminine dresser who prefers the retro styles, and you notice she is dressed in her best polka dot dress, some fetching black RHT's and high heels.
You take in the view as you watch her preparing your dinner… admiring the curves of her hips in that smart dress, and the firm calves of her stockinged legs as she stands in those sexy large diamond pattern RHT's and high heels.
You are lost in thoughts of what might be under that dress.. dreaming of lifting it up to take a look at what she is wearing underneath. Perhaps she is wearing that corselette she puts on for 'special occasions'… and you can bet she is wearing 'no panties' as she is often want to do.
Then it suddenly dawns on you… of course, tonight there is a dinner dance that Jenny wishes to go to, and you promised to take her out for the evening!
Jenny is already made-up and prepared to go out and enjoy herself. Though that sexy ensemble she is wearing has given you ideas of another way to spend time together. However, you promised to take her out to that dance and you wouldn't want to let her down, especially as she is dressed up to the nines, would you?
Looking at Jenny in her sexy dress, stockings and heels has given you a boner that needs attention. Should you tell her to cancel going to the dance and just stay in for an evening of passion? No doubt she will not be pleased about and that would defeat the purpose of staying in. What a dilemma!
Now, Jenny is no fool and if you need a little bit of persuading to take her out, then she knows exactly what to do. In fact she has something extra prepared for you after dinner, that will satisfy you both… a sexy stocking show right there in the kitchen. I bet you can't wait…
Watch this big busted shoe dangling hussy put on a sexy stockings and explicit masturbation show in this movie.
Get our superb Vintage Flash newsletter each week - all the latest model info, updates, set preview pics and more!