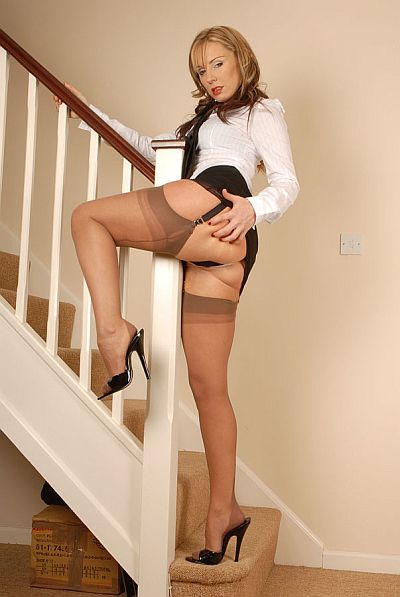 Looking through our video files recently, we found one with Clair Lou that had not yet been edited or processed.
Somehow this video had been over-looked, but in viewing it for the first time since it was shot, we knew we just had to put it out.
As many of you know, all of our new movies are Hi-Def, so this is the last of our older style non HD video's. However, Clair Lou puts on such a scorching performance, it really is a must have for your collection!
West Country hottie Clair puts on a real lascivious display here – stroking her seamed stockinged legs, bending over and rubbing her pussy through her black panties, then pulling them aside to dip her fingers into her slit.
Clair eventually removes her panties and sitting on the stair, pries her cunt lips apart and frigs herself with two fingers until she reaches her orgasm.
Some good upskirt shots here of Clair Lou wearing genuine British ff-nylons from the 1960's, seductive leg and pantie tease, followed by masturbation and a genuine orgasm shot in close up.
Download or stream this movie of Clair Lou in retro nylons at Vintage Flash.
Get our superb Vintage Flash newsletter each week - all the latest model info, updates, set preview pics and more!