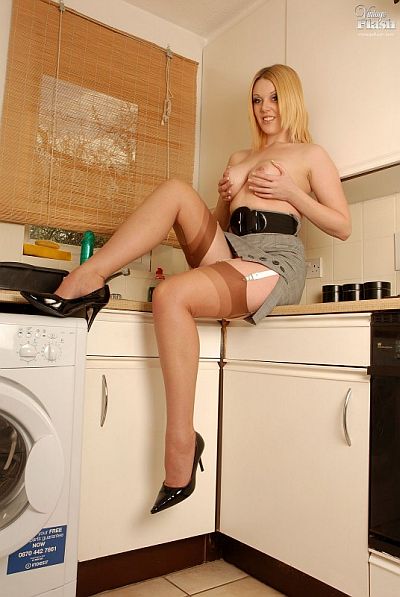 When we went to visit leggy stockings babe Shay Hendrix at her home, we found her washing her favorite sex toys in the kitchen sink!
Shay knew we were on our way to record this video, and she was already dressed in a crisp white blouse, tight pencil skirt, tan seamed nylons and black patent heels when we arrived.
She invited us into the kitchen to wait, while she was just finishing off cleaning her sex toys in the sink. Not wanting to sit around, we quickly got out the video camera and she showed us each of her toys, starting with the smallest up to her favorite big dildo.
Shay's arse looked fabulous under that tight checked skirt and she started to strip. Under her clothes she was wearing a cute gingham check bra, and six strap garter belt set that framed her pussy real nice.
Standing in stockings and heels with one leg poised on the edge of the kitchen top, Shay grabbed her large dildo and inserted it right up herself. We got a great view of all the action that followed as Shay masturbated right in front of us.
See more of Shay's masturbation in her nylons in this sizzling video here at Vintage Flash.
Get our superb Vintage Flash newsletter each week - all the latest model info, updates, set preview pics and more!