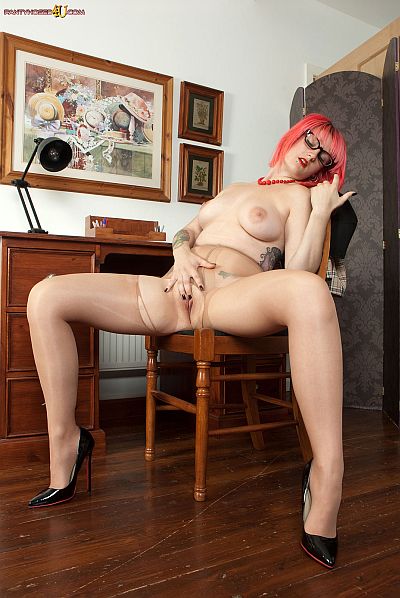 Young female boss encourages her employee to jerk-off while she masturbates in her ripped nylon pantyhose at Pantyhosed 4U.
Emma has heard rumors about your inappropriate behavior with female members of staff, and as your supervisor she has called you into her office to get to the bottom of things.
'I hear that you've been trying to look up all the women's skirts, to get a look at their pantyhose!' Emma says, accusing you of trying to get a look at their nylon gussets. 'That's just not tolerable, unless you do it with me, so I've brought you here to sort it out!'
Having dressed in some lovely sheer skin colored nylon pantyhose, Emma sits with her legs crossed, and draws your attention to her shiny nylon hose. Jealous you've been paying attention to all the other girls in the office, Emma makes it clear she wants you exclusively to herself from now on.
Your assertive boss then tells you to get your cock out, and to make sure you get rock hard, she puts on a seductive pantyhose striptease show for you to enjoy.
Stripping off her skirt and top, Emma encourages you to admire her body as she poses in her sheer nylon hose. Then ripping open the gusset of her nylon pantyhose, Emma sits with her legs open while her fingers slide into her juicy pussy.
Encouraging you to stroke your cock, your boss massages the lips of her gaping cunt and gets off on being watched as she cums.
See Emma wanking in her pantyhose in this (180 image) photo set and video – 'Power Play In PH'.
Get our superb Vintage Flash newsletter each week - all the latest model info, updates, set preview pics and more!