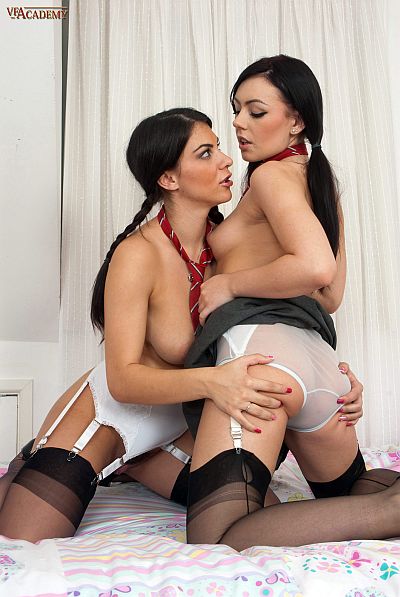 Roxy had been masturbating for the Janitor in her room, but her girlfriend Kacie turned up and was suspicious about what the pair had been up too. Kacie was feeling somewhat betrayed by Roxy, who reassured her friend that she only wanted to see the janitor's cock and nothing more.
Soon enough the two girls resolved to kiss and make up, and their lips met as Roxy put her hand up Kacie's skirt to feel her pussy through her sheer nylon panties. Roxy then started to undress Kacie, unbuttoning her blouse and kissing her titties through her bra, then continued to rub her pussy through the crotch of her school knickers.
Roxie lifted up Kacie's skirt as she leaned over and then licked her friend's cunt through the thin nylon fabric of her sheer panties. She kissed the soft naked flesh above the stockings tops of Kacie's naked thighs, then pressed her wet tongue against the compressed lips of her friend's pussy through the transparent, nylon pantie crotch.
Roxy removed Kacie's knickers and inserted a finger up her friend's slippery hole, while she teased the nub of her hot clitoris with the tip if her tongue. Kacie moaned with mounting pleasure as Roxy fingered and licked her throbbing cunt and soon she reached her first orgasm.
The two girls embraced and kissed as they knelt together in their nylon stockings and suspenders, and Kacie tasted her own juices as their lips touched and tongues entwined.
Next it was Roxy's turn and Kacie spread her friend's moist, pink cunt and slid her tongue over the hot flesh of Roxy's erect clitoris. Slipping a finger inside Roxy's wet cunt hole, Kacie licked and sucked her friend's juicy pussy and caused her to experience an intense climax.
Get our superb Vintage Flash newsletter each week - all the latest model info, updates, set preview pics and more!