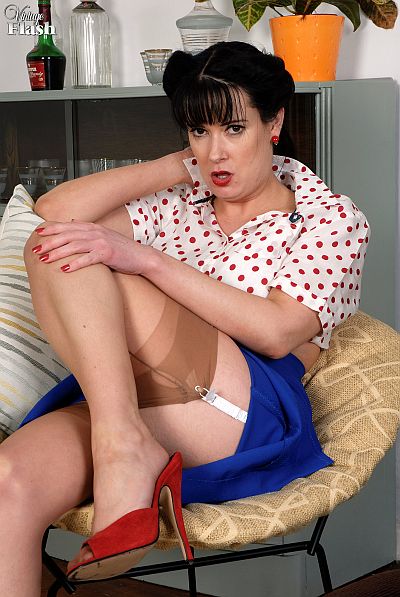 Tanya loves her retro style clothes and dressed as a saucy little 'rock n roll' babe she puts on a sexy show for you in her latest video at Vintage Flash.
Sitting in a chair, Tanya lifts to extend her legs and points her feet in red suede mules, her tight skirt riding up over her stockinged thighs. 'How's that for you, darling?' She says, drawing attention to the taut suspenders attached to the tops of her seamed nylon stockings. 'Does that get your cock throbbing in your pants?'
Encouraging you to get your cock out, she stands up and bends over to show off her bum in sexy panties, moving her hand over the sheer nylon crotch through which the outline of her pussy lips are tantalizing visible.
Tanya unbuttons her polka dot top to reveal she is wearing a vintage bra, then unzipping her pencil skirt she lets it fall to the floor around her heels. Removing the bra she cups her breasts and juggles them about in her hands, then turning around she hooks her thumbs into the elastic of her knickers and tugs them slowly down her stockinged legs.
Sitting down again, Tanya sniffs her knickers then rubs them over her naked pussy, before she offers you a chance to smell them up close as she holds them to your face.
'Look at my arse and my pussy hole!' Tanya says, now kneeling in the chair and pulling the cheeks of her arse aside to show off the puckered ring where she'd like to feel your cock. 'Have you decided which one you want to fuck first? Maybe you'd like to fuck my dirty mouth too!'
Tanya begins to masturbate with several fingers inserted up her hot, tight cunt. Her hand moves rapidly as she reams the tunnel of her sticky fuck hole and juices run down her fingers. Pulling the lips of her labia apart, she rubs the hot nub of her erect clitoris and brings herself to a climax with three fingers stuffed up her tight snatch.
Get our superb Vintage Flash newsletter each week - all the latest model info, updates, set preview pics and more!