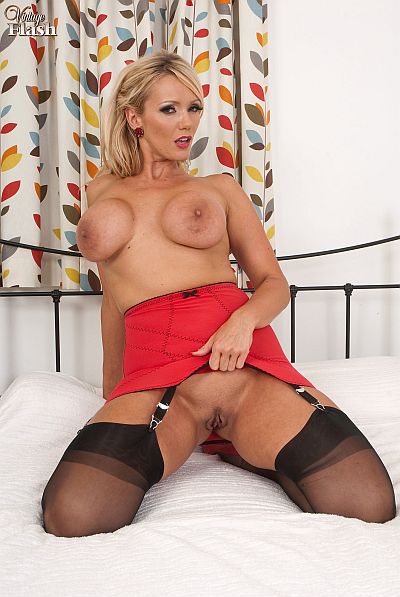 Lucy belongs to a very exclusive ladies in nylons appreciation society, and has invited you to accompany her as a guest tonight, but must first ascertain if you are truly dedicated to worshiping genuine nylon stockings.
'I need to know if you appreciate nylons as much as I do, as I don't just take any man to our exclusive club,' Lucy says, as she seductively caresses her shapely legs in super sexy, black nylon stockings and red heels. 'I like a man who is dedicated to seamed, fully-fashioned nylon stockings, so I think you really need to prove how much you like them!'
Lucy stands and unzipping her tight skirt she lets as it fall to the floor around her heels, revealing she is wearing a figure hugging girdle with black suspenders attached to the tops of her nylons. Then stepping out of the skirt she bends over and reaches down to touch her ankles and the heels of her red shiny patent leather shoes.
'You have to prove how much you like them by running your tongue right up my stocking seams', she indicates, sliding her fingers up the black line of her stocking seam. 'Right to the top, and then make sure they are extra straight for me,' she adds, as her fingers move playfully over her suspenders, then slip between her stockings tops and the naked flesh of her thigh.
'Why don't you come and sniff my pussy and my arse,' Lucy suggests, kneeling on the bed to give a perfect rear view of her splendidly girdled arse and the lips of her naked pussy showing between her nyloned thighs. 'Get your head right in there and sniff my juicy pussy!'
Lucy lays back on the bed and simultaneously lifts her legs and opens them wide, fully exposing the slit of her hot snatch and the puckered ring of her arse. Her fingers massage the pink lips of her cunt which are already pursed with sexual arousal, circling around the hot button of her clitoris to further enhance her pleasure.
Lucy then slips a vibrator in her juicy quim, and encouraging you to show your dedication by spunking over her stockings, she reaches an intense climax in her girdle and nylons.
Get our superb Vintage Flash newsletter each week - all the latest model info, updates, set preview pics and more!