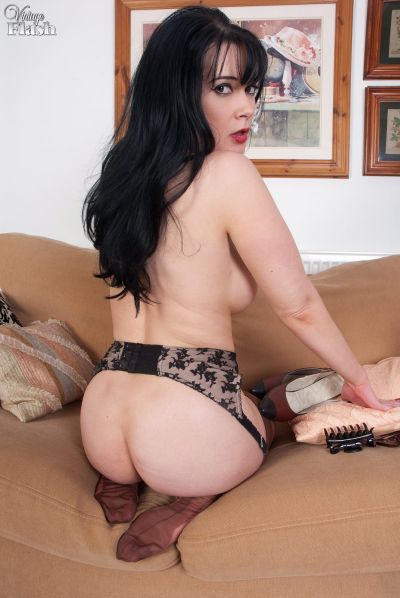 MS Cox may appear a bit shy and reserved to her colleagues at the library where she works, but they have no idea what she gets up to in private.
Her conservative clothes, tied up hair and glasses, may give the impression she is rather intellectual, but beneath that proper exterior is a woman of many passions.
'They wouldn't think I was so prim and proper, if they saw what I have under here, see…' she says, stretching out one leg to show off the seam of her fully-fashioned nylon stocking running like a dark brown pencil line up the back.
'I love my seamed nylon stockings, vintage lingerie and satin panties,' she confides, running her hands up the backs of her seamed stockinged legs.
Wearing her secret lingerie under her clothes all day makes MS Cox feel very excited. Just the tug of her suspenders pulling at the tops of her stockings under her skirt as she walks between the shelves at the library, make her feel highly aroused.
'You see, the truth is when I'm away from work, I'm quite a filthy little slut,' MS Cox confesses, as she removes her glasses, then undoes her hair to shake it and let it hang loosely about her shoulders.
Opening her legs so her skirt rides up, MS Cox gives an upskirt view of her stockings tops and rubs the damp crotch of her black satin panties, inviting you to lick the juices off them.
'Go on, get that cock out for me, I wank to see it throbbing in your hand,' she says, encouragingly, making a wanking sign with her curled fist.
Bending forward to give a rear view of her seamed nylon stockings, MS Cox pulls her black knickers down and holds her ass cheeks apart to give an enticing view of her puckered ring and pussy, inviting you give her a good fucking!
Then laying back on the sofa with her stockinged legs wide open, MS Cox encourages you to wank your cock and invites you to shoot all your hot spunk right up her gaping pink fuck hole.
Slipping two fingers up her sticky cunt, our lascivious librarian wanks her pussy and puts a finger up her butthole, talking dirty as she masturbates herself a massive orgasm.
If only her colleagues at the library could see her now…
See Tanya Cox stripping down to her nylon stockings and suspenders and masturbating in this (194 image) photo set and video – 'Lascivious Librarian'.
Get our superb Vintage Flash newsletter each week - all the latest model info, updates, set preview pics and more!