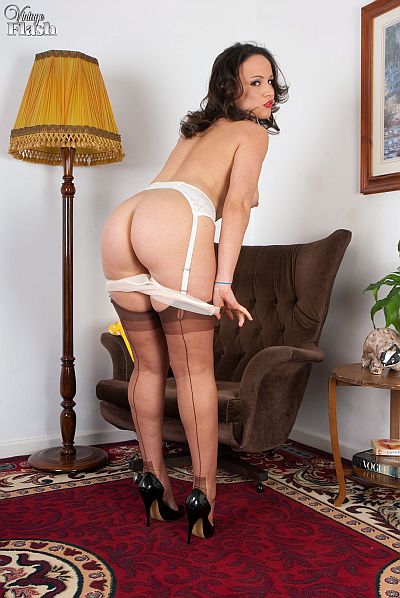 CLICK HERE TO SEE TRAILER OF LUCY IN HER STOCKINGS AND SUSPENDERS
Venturing out without ones nylons is not a good idea when it's cold outside, so Lucy pops back to put some on!
Lucy sits and rolls up her stockings, then slides her sexy, sheer, coffee tone seamed nylons over her feet and up her legs.
Having fastened her vintage garterbelt which around her waist, Lucy finishes by attaching her suspender straps to the nylon welt of her stockings tops.
Understandably, Lucy gets aroused by the sensual, silky feel of her stockings against her legs, and the reassuring tension of her suspenders as they hold her nylons in place. Even the ritual of putting on her stockings makes her feel aroused, and as usual she feels inclined to have a little play.
So, off comes the pretty frock, the sheer panties follow and it's time for a damn good fingering session!
See Lucy Love putting on her nylons then masturbating in this (146 image) photo set and full length movie 'It's Cold Outside' at Vintage Flash.
Get our superb Vintage Flash newsletter each week - all the latest model info, updates, set preview pics and more!