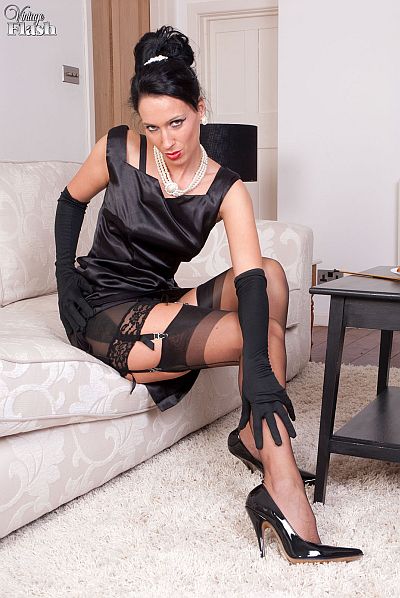 CLICK HERE TO SEE MOVIE TRAILER OF TAMMY LEE MASTURBATING IN HER NYLON STOCKINGS
Breakfast with Tammy doesn't actually involve a whole lot of breakfast, it involves a lot of Tammy!
Though Tammy is feeling hungry this morning, it's not for a champagne breakfast, but something a bit more substantial.
Wearing a slinky satin dress over the top of some cute vintage lingerie, sheer black full-fashioned nylon stockings and patent leather high heels, Tammy looks perfect the morning after the night before.
'In the mornings I get extremely horny', she tell us, and to make sure we understand what it is she's after, lifts her dress and shows us her sexy seamed stockings.
In fact when those long legs part, and her wet pink pussy lips spread in the most welcoming way, suddenly breakfast sausage is the only thing she'll be getting!
See Tammy Lee striptease and masturbate in this (134 image) photo set and full length movie 'Breakfast With Tammy' at Vintage Flash.
Get our superb Vintage Flash newsletter each week - all the latest model info, updates, set preview pics and more!