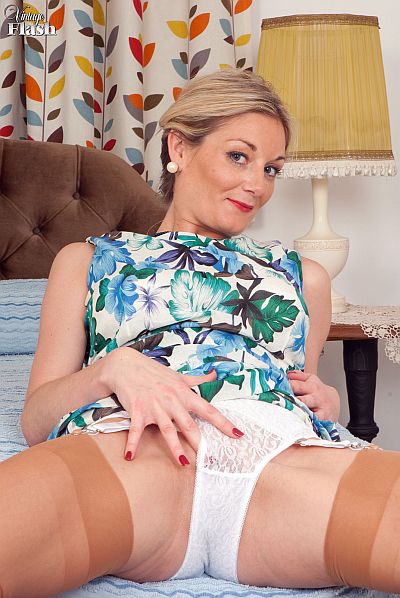 CLICK HERE TO SEE MOVIE TRAILER OF CHARLOTTE MASTURBATING IN HER NYLON STOCKINGS
Charlotte contacted Vintage Flash because she is a real lover of nylon stockings and wanted to be one of our models.
She's just an ordinary housewife who had done some modeling in the past, but nothing as explicit as the ladies do here at Vintage Flash.
She said she liked the retro style clothes our models wear, and she loves my photography, so she said she didn't mind stripping off and playing with her pussy on video.
Her fantasy was to striptease down to her stockings and suspenders for our members. She told me the thought of all you guys wanking over her would be a real turn on, so we set about making her dream come true.
In her first video Charlotte has just as arrived back from shopping and she guesses you want to see what's under her dress.
So, you get an erotic bedroom striptease, with Charlotte revealing some sexy vintage lingerie, lacy panties sliding down her slim shapely RHT nylon clad legs.
Slipping on to the bed, Charlotte then gives an arousing display of her shiny wet pussy as she sweetly masturbates, legs spread for your pleasure!
See Charlotte stripping and masturbating in this (147 image) photo set and full length movie 'Just A Striptease' at Vintage Flash.
Get our superb Vintage Flash newsletter each week - all the latest model info, updates, set preview pics and more!