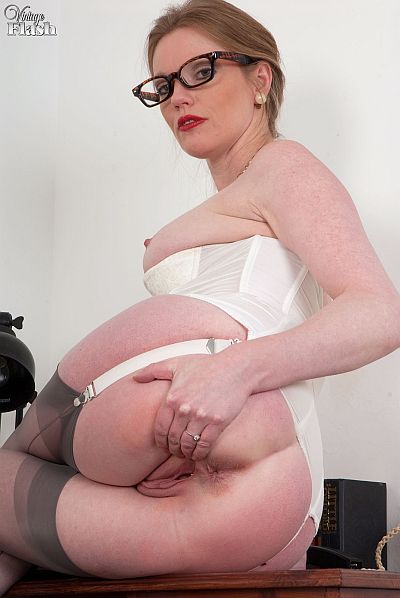 CLICK HERE TO SEE MOVIE TRAILER OF MISS HOLLY KISS MASTURBATING IN HER NYLON STOCKINGS
Miss Holly always finds time to relax, take off some clothes and have some nylon stockings and heels fun on the desk, as she does in our latest movie at Vintage Flash.
It had been a hectic day of typing memos, filing and answering the phone for bespectacled secretary Holly, when we just happened to pop into her office.
Wearing her spectacles with her hair tied back, Holly looked every bit the prim and proper secretary. However, she unreservedly let us know that she was wearing a 'merry widow corset' under that rouched blouse and a pair of fully-fashioned nylon stockings on her legs.
Noticing the attention we were giving to her stockinged legs, Miss Holly hiked up her tight skirt to reveal her stockings tops and suspenders on the pretext of 'getting more comfortable'.
'I've seen you ogling', she said, with a hint of knowing in her voice', and I can see you're getting rather a bulge in those trousers of yours!'
Miss Holly stood to show us more of her stocking tops and suspenders, and bent over so her arse appeared firm and round in her tight fitting pinstripe skirt.
'Do you think I should take a few things off?' Holly asked as she started unbuttoning her blouse. 'I'm sure you'd love to see what I'm wearing underneath'.
Miss Holly began to striptease out of her office attire while we watched, letting that skirt slip over her round naked buttocks, giving a superb view of her suspender straps stretched tightly around the globes of her arse.
Excited to have us watch her, our red headed secretary sat on the desk, and with stockinged legs open she fingered her moist pussy to relieve her sexual tensions.
See secretary Holly Kiss striptease and masturbate in this (147 image) photo set and full length movie 'Busy, So Busy!'at Vintage Flash.
Get our superb Vintage Flash newsletter each week - all the latest model info, updates, set preview pics and more!