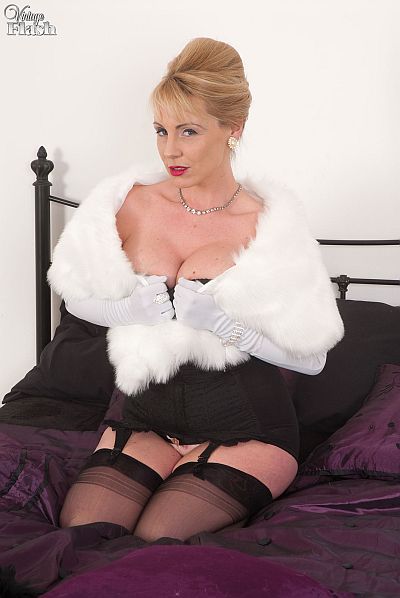 Glamourous Clair Lou is back from a movie premier, looking like a film star herself dressed in a low cut long satin dress, fur stole, diamond necklace and opera gloves.
Having met one of her favorite movie stars, Clair is feeling all sexed up after her close encounter and is feeling in the mood for some self-pleasure.
Hitching her dress up to her waist to hold it open, she reveals her stockings tops and suspenders, then brushes her satin gloved hand over her long legs and nylon clad thighs.
Clair Lou turns to give a back view as she slowly peels off her dress and lets it fall to the floor, revealing her vintage 'Merry Widow' corset and shapely legs in seamed, black full-fashion nylons.
Swaying her hips and peachy ass clad in her tight fitting corset, her black suspenders pulling at the tops of her sexy nylon stockings, Clair Lou exposes her pussy and massages her clit with her gloved fingers.
Laying back on purple satin sheets in her black stockinged and gold sling-back heels, Clair rubs her throbbing clitoris and gives herself a shuddering orgasm as she bounces her ass off the bed.
See Clair Lou in stripping down to her nylon stockings in this (186 image) photo set and watch her masturbate in her video- 'Film Star Fantasies'.
Get our superb Vintage Flash newsletter each week - all the latest model info, updates, set preview pics and more!