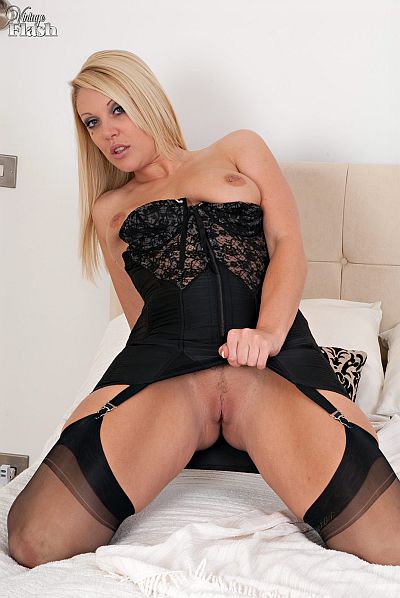 Shay is having a lay in and upon waking up she finds herself feeling horny, so she slips her hand down her sheer pink nylon panties for a play!
After giving herself an orgasm to kick start her day, Shay gets out of bed and slides into a vintage Lady Marlene corselette.
'The boys in the office are really going to love these', she says as she gathers up her black nylons. 'Sexy sheer, fully-fashioned seamed stockings!'
Shay puts on her black nylons with care and delicacy, rolling each stocking over her lovely petite feet, drawing them up her legs to finally attach the taut suspender straps.
Standing in her stockinged feet she runs her hands over her girdled figure, then sits on the edge of  the bed to slip on some spiky patent 6 inch leather heels.
Still feeling horny, Shay has time for a second wank and admires her sheer nylon clad legs and feet as she dips her fingers into her wet pussy…
Watch Shay get dressed in her sexy corselette and nylons, then give herself pleasure before she goes to work, in this weeks Vintage Flash movie.
Get our superb Vintage Flash newsletter each week - all the latest model info, updates, set preview pics and more!