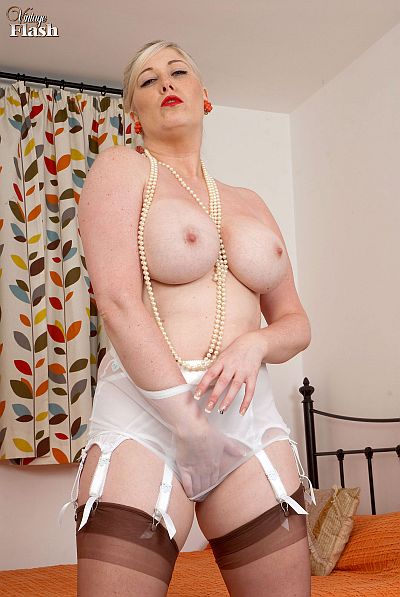 Horny blonde housewife Michelle was in the mood for some sexy fun with her boyfriend and intended to give him a surprise by dressing up in her fully-fashioned nylon stockings, satin suspender belt and stiletto heels.
She lay on the bed and began to play with her pussy to get herself turned on, then called him up to the bedroom. He responded to her call and walking into the room found Michelle with her hand down her sheer nylon panties giving her pussy a feel.
However, her boyfriend wasn't in the least interested in joining her, as he was planning to drink beer and watch the football match that afternoon. So as a joke he locked her in the bedroom and left Michelle to entertain herself.
Spreading her hands around the cones of her bullet bra she felt up her lovely big tits through the tight lace cups, then unclasped the bra and released her huge mounds from their confinement. She kneaded her voluptuous titties in the palms of her hands and pressed their flesh around the twin-set pearls that hung down between her cleavage.
Michelle then stood and pulling down her nylon knickers she massaged her naked naked plump pussy, which was nicely framed by her suspenders and the tops of her sexy nylon stockings. Removing her necklace she rubbed it all over her cunt and across her huge titties, then knelt on the bed and pulled it between the cleft of her arse cheeks and over the ring of her anus.
Laying back on the bed she opened her stockinged legs wide, then inserted several fingers up her hot cunt and frigged herself off to a satisfying climax.
Get our superb Vintage Flash newsletter each week - all the latest model info, updates, set preview pics and more!