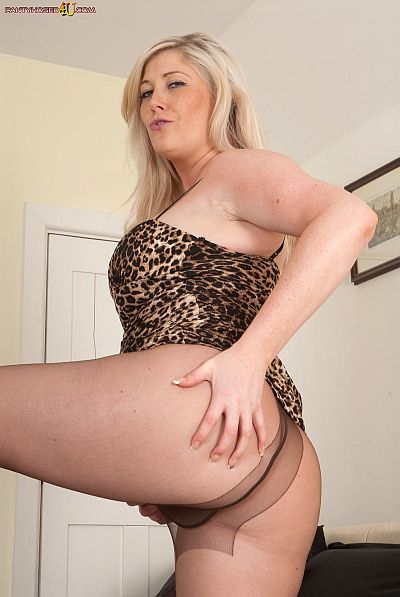 'I've just seen some nice workmen outside and they've really made my pussy nice and wet,' Michelle says, feeling all excited about the attention she attracted from the rough workmen she passed in the street who could see up her short dress. 'Do you know what they called me… A dirty little slut!'
Michelle was pleased with the reaction she caused when she walked by the workmen and lifted the front of her dress to give them a flash of her naked pussy under her sheer nylon tights.
'I can feel my pussy dripping right though my hose', Michelle says as she reclines on the bed and slips her hand between her thick thighs to feel the moistness of her cunt behind the tight nylon screen.
Feeling very aroused, Michelle lays back and pulls down the front of her dress to expose her huge titties with their erect nipples. Then slipping her hand down the front of her pantyhose she thinks about all those guys she'd love to have wanking their cocks over her voluptuous body.
'If only those builders could see me right now with my hand down my pantyhose,' she says, working her fingers under the layer of sheer nylon and massaging her hot cunt beneath the gusset of her tights to achieve her first orgasm.
Michelle then rips the crotch of her pantyhose wide open to get at her juicy cunt, and slipping her fingers into her sticky snatch, she wanks herself off in several positions to climax multiple times.
Get our superb Vintage Flash newsletter each week - all the latest model info, updates, set preview pics and more!